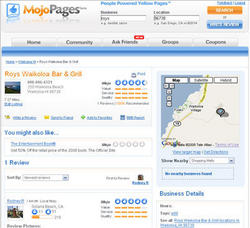 We've seen our fair share of challenges, but this is a marathon, not a sprint
San Diego, CA (PRWEB) September 19, 2008
MojoPages.com, a local search Website which ranks businesses according to reviews and ratings, recently celebrated its first birthday. The milestone came at a time when the company's recent rapid growth had propelled MojoPages to more than 1 million monthly local searches, a 100 percent growth rate per month for the past four months, and a number of key revenue and content partnerships.
"We've seen our fair share of challenges, but this is a marathon, not a sprint," said MojoPages Founder and CEO Jon Carder. "I am pleased with our progress after just one year. We're on track to earn millions in revenue, attract tens of millions of users and be profitable within the next 12 to 18 months."
In the highly competitive local search space, where total revenue is estimated to reach $15 billion by 2012, MojoPages is gaining traction through strategic partnerships with SuperPages, ServiceMagic, Ingenio and Marchex. The company's in-house direct sales efforts have successfully attracted hundreds of advertisers, most recently securing a deal with Service Master, the nation's largest Yellow Pages advertiser. Additionally, MojoPages recently introduced its Facebook application, with a second version forthcoming. Within the next 30 days, a proprietary self-serve pay-per-click engine which enables businesses to advertise on a performance basis for as little as $9.95 per month will be available.
The Website's growing base of passionate users have been instrumental in helping MojoPages gain a better understanding of what is working well and where improvements can be made. Based on this user feedback, MojoPages developed a number of promising social networking features. 'Ask Friends' enables members to request reviews they can trust, from the people they trust, like family, friends and neighbors. 'Groups' offers members of offline groups the ability to connect in an online environment where they can share business reviews, photos, documents, messages and even a calendar for events. Coupons for tens of thousands of local businesses across the country are available on MojoPages.com as a result of a recent partnership with Valpak.
When reflecting on MojoPages' first year, Carder said, "We realize this is a competitive and complex space. Many of our competitors have excelled in specific areas, but MojoPages recognizes that sustained success in this industry requires a multipronged commitment to community, innovative technologies and a fiscally responsible business model. We're encouraged by our traction to date and excited about the opportunity to improve the local search experience."
About MojoPages.com
MojoPages.com is the People Powered Yellow Pages™. MojoPages redefines what was commonly known as the Yellow Pages by empowering family, friends and neighbors to connect and share trusted reviews about local businesses in its vibrant online community. By combining consumer reviews with helpful tools such as coupons, pictures, videos and maps, MojoPages makes selecting the best local businesses easier and more efficient. Providing the much needed transparency into how businesses are truly treating their customers has made MojoPages one of the fastest growing local search companies, today.
###