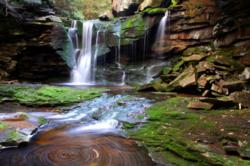 ForestWander began by inspiration of the famous old-time Gospel hymn "How Great Thou Art"
(PRWEB) January 08, 2008
Charleston, West Virginia (PRWEB) January 8, 2008 -- http://www.ForestWander.com a father and son team of photographers has hiked the forests of West Virginia known as "The Mountain State" photographing their experiences in the wilderness for the past several years. The father and son duo have captured all of nature's seasons; you can almost feel the bitter cold of winter blizzards in the forest, and smell the fragrances of spring wild azalea flowers with their vibrant colors in the Dolly Sods Wilderness.
These amazing images have generated great responses on popular photography sites such as flickr, and the photography community has awarded several photography awards to ForestWander. One of the most amazing photographs is a waterfall picture that has frozen the animation of one of the most beautiful waterfalls in West Virginia.
Magical Elakala Waterfalls - Voted as one of http://www.flickr.com/photos/forestwander-nature-pictures/1440358562/
All of the images on http://www.ForestWander.com are free to use for personal or commercial purposes. The only policy found on the site regarding commercial use states; if the nature pictures are used for commercial purposes that http://www.ForestWander.com is given credit for the photography. ForestWander has published several free screen savers on the popular software download website download dot com, and online videos are shared on several video sharing websites for a narrated version of ForestWander Nature Photography.
ForestWander began by inspiration of the famous old-time Gospel hymn "How Great Thou Art". After being converted to a Christian; the Dad of the father and son team was given a passion for the gospel message of Jesus Christ, and a great desire to explore and capture the spiritual beauty of nature.
ForestWander also maintains a commercial Nature Photography Artwork Gallery at Gallery.ForestWander.Com for those interested in purchasing Nature Photography artwork.
To contact ForestWander or for questions:
http://www.ForestWander.com
Customer.Service (at) ForestWander (dot) com
5248 Big Tyler Road
Cross Lanes, WV. 25313
304-776-2477