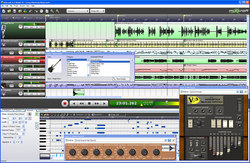 What you get for your money here is just unreal.
Oakhurst, CA (PRWEB) October 14, 2008
Acoustica has unleashed MixcraftLive.com, a free service allowing anyone to upload their music, podcasts or sonic creations to share with the world. The site allows artists to create an account, upload art work and publish up to 100 megabytes of music. Each artist account has a forum and a blog to help foster a community and fan database. Each song can be ranked and, if popular enough, can appear on the top song charts. Artists can update an event calendar with their "gigs' so that their fans can find out when the next performance is. The service is completely free and can be used by anyone wishing to showcase their sonic creations recorded with Mixcraft.
Mixcraft is a multitrack music recording studio for Windows computers_and has recently been awarded the Computer Music Value Award and the Keyboard Magazine Key Buy Award. It is seen as the Windows equivalent of Apple's Garage Band for price and functionality. Craig Anderton of Keyboard Magazine, in his review of Mixcraft 4, states, "What you get for your money here is just unreal." MixcraftLive.com adds even more value to the software and is intended to showcase the musical skills and talents of artists recording with Mixcraft.
Mixcraft now includes an additional 574 new music loops and over 300 new sound effects_ which are automatically downloaded on demand. These sounds are absolutely free to all Mixcraft customers. The loops include 13 exciting new Song Kits: Breakbeat, Crunk, Drum N Bass, Electro House, Film Score, House DJ, Jungle Drum N Bass, Progressive Euro, Southern Hip Hop, Synth House, Tribal House, Underground Hip Hop, and Urban Street Mix!
MixcraftLive.com's web address is http://mixcraftlive.com.
Mixcraft Tutorial
http://www.acoustica.com/mixcraft/v4/help/mchelp_howto.htm
Evaluation copies are available.
Contact:
David Raimondo
Director Of Sales & Business Development
Acoustica Software
P: 559-692-2224 ext 1008
F: 559-692-2214
Computer Fax: 928-202-3064
Cell:928-710-7474
David @ Acoustica.com
http://www.Acoustica.com
40291 Junction Drive Suite 204
Oakhurst, CA 93644
Acoustica - "Software should be easy to use!"
Founded in 1998 and located in the foothills of the Yosemite Valley, Acoustica's mission is to create high quality, intuitive, and powerful software at affordable prices. Our motto is "Software Should Be Easy To Use!" At Acoustica, the customer comes first!
###