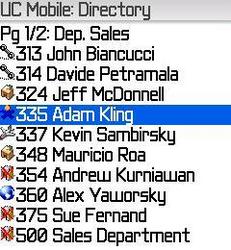 This allows Esnatech to expand beyond customer premise based applications to offer a complete UC offering to hosted customers looking for an alternative.
Richmond Hill, Ontario, Canada (PRWEB) October 3, 2008
Esna Technologies Inc. (Esnatech) announced today it has added support for Broadsoft BroadWorks VoIP platform to its Telephony Office-LinX Unified Communication platform. Broadsoft BroadWorks is the industry's leading VoIP application platform and provides revenue-generating voice features for fixed-line and wireless service providers. BroadWorks offers the widest array of applications from a single platform, including Hosted PBX, Mobile PBX, Business Trunking, IP Centrex, and Residential Broadband. BroadWorks delivers these applications with carrier-grade interoperability, back office capabilities, redundancy, and scalability.
A leading provider of unified communication solutions, Esnatech has long been a leader in mobility, messaging, and presence. The Company will be expanding compatibility with market leading and advanced IP communications systems by adding native SIP (Session Initiation Protocol) support to the Broadworks Application platform. Now customers with hosted voice solutions can still leverage the interoperability and simplicity of Telephony Office-LinX to enable unified communications to their existing business processes and applications. Broadworks' providers can now offer Telephony Office-LinX to their customers and offer advanced presence applications with MS Exchange and Lotus Domino, integrated mobility and unified messaging with GoogleTM applications, as well as native speech to text and speech recognition solutions for their customers and users.
"With the support of GoogleTM applications and now our seamless support for Broadworks, we are now truly delivering UC as a SaaS solution for Small to mid size enterprises.", Davide Petramala, VP of Sales & Marketing Esnatech. "This allows Esnatech to expand beyond customer premise based applications to offer a complete UC offering to hosted customers looking for an alternative."The Broadworks platform and the Broadsoft ecosystem of partners enable us to look beyond traditional means of delivering unified communications and look to the next paradigm of enterprise communications."
"Esnatech's Telephony Office-LinX application server is a perfect extension to the Broadworks platform, enabling greater interoperability with a wide variety of SaaS based and enterprise based applications. Our partners will now have an excellent choice for adding value added services to their service portfolio such as IP faxing, speech recognition, speech to text visual voice mail, and Google Applications integration", Michael Lauricella, Director, Xtended Marketing BroadSoft, Inc. "This is why we envision them a valuable asset to our new Broadsoft Xtended partner program."The Esnatech Telephony Office-LinX platform is already tightly integrated with Microsoft Windows, MS Exchange, IBM Lotus Domino, Novell GroupWise, Research in Motion Blackberry, Nokia devices, Apple iphones and MS windows mobile devices. The gateway server can be administered directly from an organization's Microsoft Management Console or through Terminal Services over the web. Users can be managed through Active Directory and Group Policy.
About BroadSoft
BroadSoft® provides VoIP application software that enables the delivery of hosted telephony and multimedia services to customers in 61 countries world-wide. Its award-winning flagship BroadWorks® technology empowers wireless, wireline and cable carriers to deliver next-generation voice and multimedia applications and advanced features that enable them to grow revenue, introduce competitive offers and elevate customer satisfaction. BroadSoft's family of carrier-class software products delivers the scale, open architecture and reliability that the world's leading telecommunications companies demand to serve mission-critical enterprise and residential customers. BroadSoft provides VoIP applications to seven of the top 10 and 13 of the top 25 largest carriers worldwide, as measured by recent annual revenue, including Korea Telecom, KPN, SingTel, Sprint, Telefonica de Espana, Telstra, T-Systems, and Verizon. For additional information, go to http://www.BroadSoft.com.
Founded in 1989, Esnatech's mission is to provide communication solutions that are simply the best way to communicate! Esnatech solutions empower organizations by giving them the flexibility to conduct business at any time, from anywhere, so they can manage the information they need, when they need it. Esnatech markets and distributes their products through OEM and VAR partners in 28 countries worldwide.
Note to editors: If you are interested in viewing additional information on Esnatech, please visit the Esnatech Web page at http://www.esnatech.com on Esnatech's product pages. Web links, telephone numbers and titles were correct at time of publication, but may since have changed. For additional assistance, journalists and analysts may contact Esnatech's Marketing department at Marketing @ esnatech.com.
###