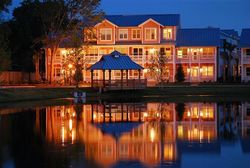 Affordable pricing doesn't do justice to this luxury Amelia Island address
Amelia Island, FL (PRWEB) October 23, 2008
Cranewoods Realty's announced a special event to release the latest phase of residences at Cape Sound, new Amelia Island condos. The event begins Friday, October 24, with a private preview for the Realtor community. On Saturday and Sunday, October 25 and 26, the public is invited to join the release party festivities.
According to Suzanne Cash, on-site Realtor for Cape Sound, both the family-friendly event and the units' low pricing are unprecedented. "This is an incredible opportunity to purchase an Amelia Island condo at close out pricing -- below the builder's cost and at bank minimums," she said.
In addition to the release of the latest phase of the community, which includes the property's most desirable units on the lake, the project developer also announced that select residences in Cape Sound's first two phases are available at new close-out prices below builder cost for buyers and investors seeking value in Amelia Island real estate.
With prices starting in the $300,000s, Cape Sound offers a rare opportunity to own an affordable Amelia Island condo within easy commuting distance to Jacksonville. The metropolitan city is known for its cultural and sporting activities, major educational institutions and a thriving business community. Jacksonville is poised for additional economic growth with its port expansion, a move that is opening the Port of Jacksonville to international trade opportunities.
Cape Sound's distinctive architecture is in harmony with its island neighbors and offers all of the amenities today'sFlorida condominium buyers demand, including a sparkling resort-style pool, fully equipped fitness center, outdoor community gathering spots for entertaining, lakeside gazebos and controlled access to the gated community.
Dining and shopping options in the island's historic district also are nearby, while 13 miles of beaches offer the seaside lifestyle Northeast Florida real estate buyers expect. Located on Amelia Island, the best-known link in the Sea Island chain of barrier islands, Cape Sound gives homeowners the best of North Florida living -- a year-round mild climate in one of the region's most scenic natural environments.
"Affordable pricing doesn't do justice to this luxury Amelia Island address," said Cash. "I invite everyone to come enjoy the festivities, preview our on-site models and experience for themselves this unique island lifestyle."
The private release for Realtors is from 3:00 p.m. to 7:00 p.m. on Friday, October 24. The public release is from 10:00 a.m. to 4:00 p.m. on Saturday, October 25 and from noon to 4:00 p.m. on Sunday, October 26. The Cape Sound sales office is also open daily from 10:00 a.m. to 5:00 p.m. The property is located at 1950 Cape Sound Drive, Fernandina Beach, FL 32034
About Cranewoods Development
Andrew Howe, president of Cranewoods Development, is an award winning developer, general contractor and real estate consultant with over 35 years experience. Cranewoods offers full service real estate consulting to lenders and investors. Services include: development consulting, bank loan workout solutions, court appointed receiver, turn-key development management, construction management and general project problem solving. To explore Cranewoods further, visit: http://cranewoods.com or follow them on Facebook at http://facebook.com/cranewoodsdevelopment
Jacksonville, FL | Cincinnati, OH.
513-257-0749 | 904-758-3434
# # #