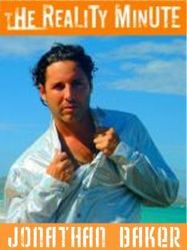 Afternoon Drive on The River
Los Angeles, CA (PRWEB) October 15, 2008
"Reality Minute" Radio's Jonathan Baker and Ara Andonian (http://www.realityminute.com) have titillated fans, keeping the fun going year round thanks to the last twelve seasons of reality programming. CBS' "Amazing Race" recaps, predictions and colorful commentary in the Fall, CBS "Survivor" in the Winter, and CBS "Big Brother" in the Summer with special reports on E Entertainment's "The Girls Next Door" from Playboy Inc have made "Reality Minute" the premiere site for all things reality.
With over 800 hits a day from national and international "Reality Minute" junkies, and with Jonathan as the go-to for the "most quotatious" quotes for press, this is where people turn to keep up on the latest happenings and innate drama of reality programming, including the new season of "Amazing Race 13" coverage kickied off on Monday, September 29, 2008.
Reality Minute is hosted by reality star Jonathan Baker who garnered national attention in his groundbreaking six-time Emmy Award winning series CBS "Amazing Race 6" and reality host Ara Andonian. Jonathan knows the reality ropes and keeps the show lively with his latest coverage, guests and reality expertise. Jonathan has continued to be a big fan of "Amazing Race" and a major promoter of the show, striving to keep it as the only Emmy award winning show in the reality programming category. Jonathan has also been on popular reality shows including E!'s "The Girls Next Door" for the last five seasons, NBC's "Celebrity / Reality Fear Factor" along with 14 other shows to-date and has the dubious distinction of being named TV Guide's #2 Reality Villain of as all time this past summer.
"Reality Minute" is also aired live in Canada on Ara Andonian's "Afternoon Drive on The River" (97.5) in Kamloops, B.C.
"Our fifth year is the most exciting yet for 'Reality Minute'. Since we started, our international audience has grown, making the site busier than ever," said Baker. "And as always, we are THE in-the-know source for all that is reality television with a passion for keeping it lively and wildly entertaining."
To get "Reality Minute" aired in your market, contact Jonathan Baker at jonathanbaker @ aol.com. Go to http://www.realityminute.com for a sample of the show. Also if you want to keep up with Jonathan, Victoria or Trease, please see them at http://www.JonathanBakerandVictoriaFuller.com.
Contact:
Elizabeth @ thinkhijinx.com
(213) 713-4865
###