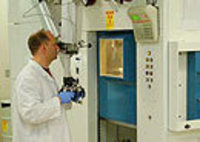 We want them to understand the larger financial implications of a job change.
Gainesville, FL (PRWEB) October 6, 2008
The health-care recruitment company MedConex has teamed up with Payscale, a market leader in global online compensation data, to add real-time calculators to their employment website NuclearPharmacyJob.com. The site was designed to be a "one-stop career center" for Nuclear Medicine where pharmacists can check nuclear pharmacy job openings, blog with pharmacy colleagues and find pharmacy career information all on one website. The Payscale calculators will support this goal by providing pharmacists with online tools to help determine the average pharmacist salary or the health-care cost for a specific location.
"Nuclear pharmacists looking to develop their careers and begin a job search are going to need current, accurate salary and cost-of-living figures," says Hayes Milani, MedConex president, "This is a perfect addition to our website."
Salary and cost-of-living considerations are critical in evaluating a nuclear pharmacist's job position and their desire to make a career change, which is why this type of employment information is now available at NuclearPharmacyJob.com. With present slowdowns in the housing market and other signs of stress in the economy, pharmacists are assessing very carefully the financial costs of changing jobs. The challenge of selling a home in a stagnant housing market or the cost of a longer commute with today's high gas prices could prevent some pharmacists from taking a new job. "We want nuclear pharmacists to make informed decisions," says Hayes Milani. "We want them to understand the larger financial implications of a job change." Recruiters working one-on-one with nuclear pharmacists through NuclearPharmacyJob.com identify and weigh the advantages of a career change and salary considerations are usually top priority.
Payscale's salary and cost-of-living calculators are easy to use and provide an instant and accurate picture of the nuclear pharmacy job market. At NuclearPharmacyJob.com, pharmacists can find these features on the homepage and by clicking on the Careers/Salary and Working Hours of a Nuclear Pharmacist menu. A pharmacist enters job title, city and state to find a range of salaries for a specific location. From the cost-of-living calculator, a pharmacist can find out if a move would involve an increase in the cost of groceries, housing, utilities, transportation and health-care. Best of all, the information is provided free of charge. "No other website is so complete in its mission to provide nuclear pharmacists with employment information all on one site," says Hayes Milani. "Our candidates feel assured that they made the best decision possible for their career and their quality of life."
###