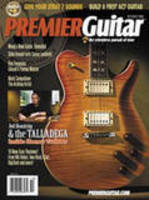 Let the Truth Be Known
Mount Vernon, IA (PRWEB) October 1, 2008
Elevating the reader experience to a new level in the guitar industry, Premier Guitar launches a comprehensive array of print, video and online coverage of George Lynch, one of the world's most influential guitarists. The "George Lynch Experience" multimedia artist feature includes exclusive video footage available online at http://www.PremierGuitar.com, and a special 16-page magazine supplement sent to all Premier Guitar subscribers packaged with their October 2008 issue.
"Typically when the publishing industry offers extensive coverage such as this, it is offered as a premium," said Peter Sprague, CEO of Gearhead Communications LLC, publishers of Premier Guitar. "At Premier Guitar, we believe all our content should be free and easily accessible to the reader."
Visitors can view all seven videos featuring George Lynch for free at http://www.PremierGuitar.com/video, on its YouTube Channel or Twitter. This coverage contains more than 40 minutes of exclusive content: candid interview footage; intensive explorations of Lynch's guitars, amps and pedals; and a tour of Lynch's beloved Integratron geodesic dome. More videos are in progress and in the weeks ahead visitors will be able to view a dozen videos - with well over an hour of great content.
Online visitors can also read the George Lynch Experience feature in Premier Guitar's digital edition, available at http://digital.premierguitar.com. Premier Guitar is the only guitar publication to offer its complete magazine online allowing viewers to read, download and share content - all for free.
The project shows PG visiting George Lynch on his home turf for a close look at his arsenal of tone. Lynch discusses his rig, his haunts, latest ventures and what it takes to sound like "Mr. Scary."
"I'm a complete gear nut," says Lynch. "I've got my ear to the road checking out new stuff…. I'm always changing shit up, exploring and finding new ways."
Brett Petrusek, director of artist relations for Premier Guitar, spearheaded the George Lynch Experience project. "From the very beginning, George was really in to helping us give an in-depth look into his gear choices, style and tone," says Petrusek. "He understood that it would take more than a typical interview to demonstrate techniques and share his knowledge, which is why he spent so much time with us on camera."
In this exclusive footage, Lynch explains how he gets his tone, shows his favorite gear, gives PG access to special performances, and reviews techniques used on his new album, "Let the Truth Be Known," from his band Souls of We (available November 2008).
Additionally, the George Lynch Experience includes a contest featuring gear from sponsors Randall Amplification, Eminence Speakers, ESP Guitars, Hal Leonard, Seymour Duncan Pickups, Spectraflex Cable and Zoom. These companies have contributed gear so that one lucky gear hound will have a chance to sound like Lynch by winning Premier Guitar's Lynch Rig sweepstakes. Go to http://www.premierguitar.com/lynchrig for a chance to win.
The George Lynch Experience marks a new chapter in Premier Guitar's rapid growth and demonstrates PG's increasingly detailed examination of how artists utilize innovative equipment to create great music.
Every day Premier Guitar attracts a growing multimedia audience of tone-obsessed guitarists hungry for new gear. They rely on PG's print magazine, online Digital Edition and http://www.PremierGuitar.com Web site for in-depth gear coverage. Premier Guitar gives them what they crave, exactly how they like it and where they want to get it. The new George Lynch Experience is the latest example of PG's unique, multimedia approach to serving the worldwide community of dedicated players.
About Premier Guitar
Offering guitarists a multimedia source for news, gear info and education/instruction, Premier Guitar is the media home for players who are serious about their tone. PG's gear-centric print magazine has a monthly circulation of 29,000 complemented by the industry's only complete, freely accessible online magazine (http://digital.premierguitar.com) that attracts more than 16,000 monthly visits, 40% from an international audience; a Web site (http://www.premierguitar.com) that's the fastest-growing portal in the guitar industry with more than 350,000 unique visitors every month; and, the market's leading interactive gear search service that attracts more than 200,000 visitors a month. With nearly 50,000 pieces of gear, players can find, buy and sell gear on Gear Search (http://www.premierguitar.com/gear/gear_search.aspx). Published by Gearhead Communications, LLC, Premier Guitar is employee-owned and headquartered in Mount Vernon, Iowa with offices throughout the U.S.
# # #