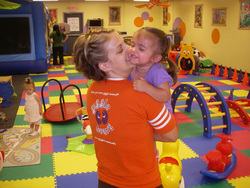 Lake Orion, MI (PRWEB) October 1, 2008
Giggle Beans has received such amazing support from the local community, they have begun national franchising. Created by Dawn and Mike Bajis, two Oakland County, Michigan residents, the couple strived to offer parental sanity in a fun indoor play place for young children. The Bajis' have two small children and realized the need for an outlet; for both young children and their parents.
Dawn and Mike have been residents of Oakland County for over 10 years. The two hesitated on opening a business in one of Michigan's worst economic times in recent history, but believing in their idea, they went for it. The support from the community has been overwhelming. Parents continually send thank-you notes via email; they are finally able to accomplish work while their little one plays in the 3,000 sq. feet of safe, clean, indoor play space.
As parents, the Bajis' realized how difficult it was to accomplish computer tasks while their 1-year old had a permanent marker in her hands and their 3 year old was showing her how to draw on daddy's tv. So, Giggle Beans offers free wi-fi access and free workstations for parents while children play in a clean, fun, safe, permanent-marker-free environment.
Giggle Beans was opened in the Spring of 2006 and became franchised in September of 2008. The Bajis' wanted Giggle Beans to be an attainable franchise opportunity for parents all over the country, which is why their franchise fees are low, their building requirements are minimal, and their behind-the-scenes support is top-notch.
To read more about the Giggle Beans franchise opportunity, visit http://www.gigglebeans.net/franchise.asp today.
Contact:
Julie Harter, director of public relations
Giggle Beans, LLC
http://www.gigglebeans.net
franchise@gigglebeans.net
###