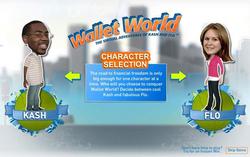 Introduced as the most interactive online banking solution on the market today, it is intended to empower tech-savvy consumers with an unprecedented high-def view, and control, of their money
Pittsburgh, PA (PRWEB) October 1, 2008 -
PNC Bank, a member of The PNC Financial Services, Group, Inc. (NYSE: PNC) has introduced "Wallet World: The Virtual Adventures of Kash & Flo," a new online game.
The objective is to guide the animated characters to climb, jump and run to gather as much cash as they can, put money away, and win daily or grand prizes totaling $25,000*. Prizes include iTunes gift cards, scooters, flat-screen TVs and a Virtual WalletSM account worth $5,000.
Driven by Virtual Wallet, the new money management and online banking solution designed with and for Generation Y, PNC's first online game is part of the biggest interactive marketing campaign in the company's history. Besides Wallet World, elements include social media websites, web videos, online banner ads and mobile marketing.
Since the full launch in August, PNC has opened more than 12,000 new Virtual Wallet accounts and is averaging more than 200 new customers every day.
"Introduced as the most interactive online banking solution on the market today, it is intended to empower tech-savvy consumers with an unprecedented high-def view, and control, of their money," said Jerod Laughlin, manager, Interactive Marketing, PNC. "The development of Virtual Wallet was based on the money mindset and financial lifestyle of Gen Y, making it easy and visual to help them plan and save."
Virtual Wallet accounts can easily be opened online, over the phone or in any PNC branch. For more information about Virtual Wallet and the "Wallet World" game, which runs from Sept. 28 through Nov. 28, 2008, visit http://pncvirtualwallet.com.
An online media kit containing background information about Virtual Wallet, images and video interviews, including customers, is available at http://www.pnc.com/go/presskits.
The PNC Financial Services Group, Inc. (http://www.pnc.com) is one of the nation's largest diversified financial services organizations providing retail and business banking; specialized services for corporations and government entities, including corporate banking, real estate finance and asset-based lending; wealth management; asset management and global fund services.
*Residents of DE, KY, MD, NJ, OH, PA, VA and D.C. are eligible to win prizes.
###