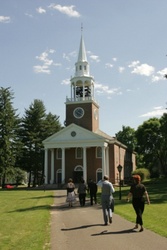 Wallingford, CT (PRWEB) October 1, 2008
Her Royal Highness Princess Maha Chakri Sirindhorn of Thailand will preside at opening events at the Fourth U.S.-Thailand Education Roundtable, being held on the campus of Choate Rosemary Hall on Thursday, October 9, 2008, at 3:30 p.m. Her Royal Highness and 30 delegates from Thailand will visit the campus and meet with students and faculty.
The U.S.-Thailand Education Roundtable was established by the University of Pennsylvania's Graduate School of Education in 2001, and has proceeded under the leadership of Her Royal Highness, and the sponsorship of the Starr Foundation. The roundtable brings together national-level education policymakers, university presidents, and directors of national research centers from the U.S. and Thailand to promote understanding and enhance information sharing on leading issues in education, faced by both nations. The Fourth Roundtable will focus on liberal arts college education; science and mathematics teacher preparation; and work-integrated learning for the 21st century, particularly in mathematics, science and technology.
Her Royal Highness Princess Maha Chakri Sirindhorn holds a doctoral degree in development education from Srinakharinwirot University. HRH began her teaching career in 1979 at Chulalongkorn University and a year later, she joined the Department of Law and Social Sciences at Chulachomklao Royal Military Academy where she was Director of the Department of History, and has played an active part in revising the Academy's curriculum. In addition, HRH runs several philanthopic organizations and foundations. She is Executive Vice President of the Thai Red Cross Society since 1977; Executive Chairman of the Chaipattana Foundation (to promote environmental preservation), the Ananda Mahidol Foundation (to promote higher education), and the King Rama II Foundation (to preserve Thai Culture). Fluent in five languages Pali, Sanskrit, Cambodian, English and French, HRH has been a proponent of educational reform in her native Thailand. In the past, literacy and compulsory education have been the main educational objectives of Thailand where 68% of the population lives in rural areas. The Princess has advocated for education to be a kind of "service" to others. In Thailand where there are not enough qualified teachers to teach students in every field, HRH has advocated on behalf of educators and students.
More than a century ago Thailand's King Rama V instituted The Royal Thai Scholars Program, which sent personally selected young scholars to Western universities to study. Today, rather than being hand-chosen by the royal family, Thai students nationwide are administered a series of exams which determines who will participate in the program. Each year some 50 students are sent to American boarding schools to begin their studies as high school post-graduates before heading to university. For more than 20 years, Choate Rosemary Hall has hosted two Thai Scholars each year for a post-graduate year.
###