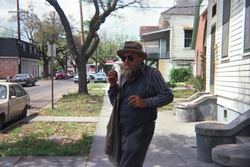 John McCain should take note - if you're looking for a maverick, Neutrino's the real deal
Burlington, VT (PRWEB) October 1, 2008
With all eyes upon the two major parties battling to convince the population that they understand the common man, a very uncommon man, Poppa Neutrino, self-described nomad by nature, has been gathering media attention with the formation of a new political party.
On September 21, 2008 the Burlington Free Press described the "Owl Party" on its front page as "a political party of Neutrino's design that claims not to have all the answers and has three underlying principles - eye contact, courtesy and due process." The article describes the core members as "artists and musicians, outcasts and misfits."
"The people who signed on to this project are revolutionaries," Neutrino told the paper.
The same week, Seven Days, "Vermont's Independent Voice," also covered the story in a front-page article entitled "Bohemian Raft City." The piece detailed the party's soon-to-be headquarters on Lake Champlain, a proposed 125-foot raft complete with 30 bedrooms, a bowling alley, and a two-story grand ballroom - and that's just for starters. The party members are building the raft by hand, under Neutrino's tutelage. At the same time the group is building smaller rafts for its members to live aboard.
"Rafting is the way to go - you're free from the landlord," Neutrino claims in the 2007 documentary, "Random Lunacy: videos from the road less traveled," from New York based Home Team Productions.
The film is a testament to this singular existence as it chronicles life on the road with Neutrino and his family, who often constructed and lived on homemade rafts made of garbage.
"John McCain should take note - if you're looking for a maverick, Neutrino's the real deal," asserts the doc's Co-Director Vic Zimet, who also edited the film.
Partner Stephanie Silber adds, "You want a tested leader with nerves of steel? How about 60 days in the North Atlantic on a scrap raft? It's all right there in the film. You have to see it to believe it."
Neutrino, no stranger to media buzz, was the subject of Alec Wilkinson's biography, "The Happiest Man In The World," which followed up his 2005 article in The New Yorker about the autodidact also known as David Pearlman.
"This guy makes Jack Kerouac look like he lived at home with his mother and went out on the road on weekends," says Wilkinson, who appears in the film.
"Random Lunacy" continues to travel the world, provoking, like its subject, thought and discussion around the meaning of freedom and the pursuit of happiness. In March, 2009 the doc will screen throughout eight states in two weeks as one of twelve films selected for the Southern Circuit Tour of Independent Filmmakers.
The Burlington Free Press has vowed to continue coverage of the Owl Party and its efforts. For more information: http://www.poppaneutrino.com and http://www.owlparty.org/index.html
###