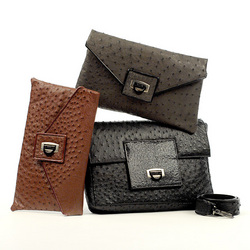 In 2007 and 2008 LuxCouture replaced many top sites as the definitive resource for the hottest designers, up and coming designers and luxury classic and unique handbags
Newton Highlands, MA (PRWEB) October 1, 2008
LuxCouture.com launched its newly redesigned website that now includes great accessories. In honor of its new look and its latest accolade, LuxCouture has announced a new handbag giveaway where visitors can win a B Romanek handbag valued at $1900.
"We recently won Best of Boston for handbags and we are just over the moon about it. Our clients are so loyal to our brand and the designers we bring in each season that we wanted to do something special," Sari Brown, president, LuxCouture, explains. "We redesigned the site to make it even faster and easier to shop and announced a great giveaway that includes a gorgeous B Romanek handbag," Brown continues.
The contest does not require a purchase. Everyone currently on the LuxCouture mailing list and who register for the mailing list before October 15, 2008, are eligible to win prizes that include: 25% off certificates, 50% off certificates and a B Romanek handbag.
"LuxCouture is considered one of the premier websites for luxury designer handbags," Robert Melillo, president, White Hat Marketing, states. "In 2007 and 2008 LuxCouture replaced many top sites as the definitive resource for the hottest designers, up and coming designers and luxury classic and unique handbags," Melillo concludes.
The list of designers at LuxCouture for Fall '08 includes: De/Couture, Durga, Jane August, JT Italia, Kara Ross, LAI, Michael Teperson, Parker Ochs, Pauric Sweeney, Rebecca Minkoff, and VBH among others.
With the fall fashion season underway, LuxCouture.com has seen some interesting shopping trends. "Women are shopping again for great bags. The designers we brought in for Fall and the bags we selected represent classic good taste and some unique bags that they will enjoy for years to come," Brown explains. "We have a great selection of bags at various price points and some wonderful leathers and exotic skins," Brown concludes.
To see the Fall '08 collection or for more information about the contest please visit: http://www.luxcouture.com
About LuxCouture:
LuxCouture.com is a leading retailer for luxury purses from rising fashion stars. Every style is chosen by Sari Brown, president of LuxCouture. LuxCouture's website has won numerous awards over the past 24 months.
The online store is now complimented by a brick and mortar store located at 21 Lincoln Street in Newton Highlands Massachusetts. For more information call 800-770-0408.
###