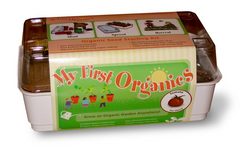 With two kids at home, we're always looking for something educational and creative to do together. Our organic seed starting kits are a fun way for our family to nurture something that we like, and then cook and eat together too
Aptos, CA (PRWEB) October 2, 2008
In an effort to educate families on the importance of eating healthy and caring for the environment, Surf City Growers launched My First Organics seed starting kits, a fun and educational hands-on activity that teaches kids of all ages how and why to grow organic produce. Available immediately from http://www.myfirstorganics.com, the kits are a fun and unique gift for any youngster.
"In today's high tech world, we're searching for ways to get our kids away from TVs, computers and cell phones. Here's an opportunity to get families outside to connect with nature, learn where food comes from, and how it can be done without harming the environment," said Linda McNair, president and co-founder.
Everything in My First Organics seed starting kits is Earth-safe. Each kit is made up of a reusable or recyclable mini-greenhouse complete with organic seeds, soil and biodegradable pots that can be placed directly into the soil. Step-by-step, kid-friendly guidance and illustrations are also included, making each step simple.
"With two kids at home, we're always looking for something educational and creative to do together. Our organic seed starting kits are a fun way for our family to nurture something that we like, and then cook and eat together too," said Trent McNair, vice president and co-founder.
My First Organic Kits come in a variety of colorful, delicious veggies and herbs that can be grown in a garden plot or a container. Varieties include red cherry tomato, heirloom yellow pear cherry tomato, burgundy bush bean, snap pea, broccoli, cauliflower, butternut squash, butter lettuce and a parsley and basil herb combination.
Kits cost $14.99 each and are available for purchase at http://www.myfirstorganics.com with 5% going towards putting kits into to public schools. A great gift idea, the kits are good for one year from the date of purchase.
About Surf City Growers
Surf City Growers was founded in 2005 by Linda and Trent McNair, two garden enthusiasts who had enough of the high-tech industry and took a leap of faith. Parents of two children, a dog and two cats, organic gardening is a tradition in their family. However, they knew that most people didn't benefit from this education and decided to create a business that immersed them in what they cared about, and made a difference too.
Surf City Growers is committed to providing organic gardening products that educate people on the importance of eating healthy, caring for the environment and supporting their communities through agriculture. Certified by the California Certified Organic Farmers (CCOF) and the United States Department of Agriculture (USDA), Surf City Growers is one of the few organic ornamental plant growers in the State of California, and perhaps the only one on the Central Coast. To learn more, visit http://www.surfcitygrowers.com or http://www.myfirstorganics.com.
Downloadable images can be found at http://www.myfirstorganics.com. Click on the NEWS link at the bottom of the page.
###