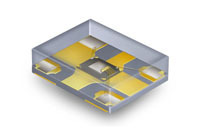 Costa Mesa, CA (PRWEB) October 1, 2008
Ecliptek Corporation announces the expansion of their EMO™ family of MEMS oscillator products to include a new MEMS spread spectrum low EMI output surface mount oscillator, the EMS series
The EMS series oscillators reduce EMI at the clock source, potentially eliminating the use of supplemental shielding enclosures and/or filtering components later down the clock stream. This greatly reduces system costs and improves overall EMI performance. Applications for the EMS series include set-top boxes, medical equipment, scanners, printers, LCD displays, and communications equipment.
Standard specifications for the EMS series include a frequency range of 1MHz to 200MHz; 1.8V, 2.5V or 3.3V supply voltage; ±50ppm or ±100ppm frequency stability; LVCMOS single ended output; programmable spread percentages of ±0.25%, ±0.50% and ±1.00% center spread; and -0.5%, -1.0%, -2.0% down spread; spread spectrum enable/disable function; and tri-state or power down options for a high impedance output.
Using a proprietary ASIC and state-of-the-art programming techniques, Ecliptek is able to program and deliver EMS products in as little as 7 days ARO. Prices start at $1.56 in 1000 piece quantities on tape and reel. If you would like additional information regarding the technical aspects of the EMS series of MEMS spread spectrum oscillators, please visit Ecliptek's comprehensive Frequently Asked Questions section of our website.
To request samples or to learn more about Ecliptek Corporation, please access our industry leading website, http://www.ecliptek.com , or contact any one of our Authorized Distributors.
About Ecliptek
Founded in 1987, Ecliptek is a leading supplier of innovative frequency control products to the electronics industry. Headquartered in Costa Mesa, CA, Ecliptek provides complete engineering support and unparalleled customer service to OEM customers and distributors worldwide.
###