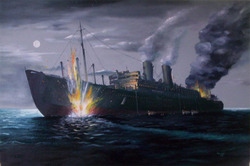 We've been surveying large areas off of Central America, following our extensive research
Portland, ME (PRWEB) October 1, 2008
Sea Hunters, L.P., a division of the Portland Maine based shipwreck research and recovery company Sub Sea Research, http://subsearesearch.com/ssrpromo.mp4 (video) embark on their newest project: the recovery of one of the world's wealthiest wrecks.
The ship in question, the "Blue Baron", was attacked and sunk by a German U-Boat in June 1942. Through extensive and intensive research, Sub Sea navigated through the wreckage to discover large amounts of wealth, previously unknown to the world. The ship is thought to have been carrying tons of precious metals, several thousand tons of tin and copper, all of which are presently hidden amongst the debris. The total worth of the cargo equals out to more than four billion dollars, with the tin and copper alone valued at $165 million dollars.
The team is equipped with a number of unique tools that help make them the world's leader in shipwreck recovery technology. With the assistance of satellite imagery, a remote operated vehicle (ROV), side-scan sonar imaging, cesium magnetometers, and the help of their dedicated research team, Sea Hunters, L.P., have been able to locate the exact position and location of the wreck and all of its secret cargo. The next mission is to apply this technology to exhume the contents. The crew plans to head out to the site this fall on their new 220-foot salvage ship, M/V Sea Hunter equipped for deep water recovery. The ship is currently being prepared for the long journey ahead.
"We've been surveying large areas off of Central America, following our extensive research," Greg Brooks has said. Brooks, the founder and co-manager of Sub Sea Research, has been in the shipwreck business since 1983. He and his team have located major shipwrecks, including the "Oxford", the famed ship of Henry Morgan, the "Blue Nose", and several German U-Boats. Brooks and Sub Sea Research also work to help others. They have used the proceeds from previous excavations to build houses and facilities for impoverished people in Haiti. Once they bring up the cargo aboard the "Blue Baron", they plan to not only continue helping those in Haiti, but to help others all over the world.
Sub Sea Research and Sea Hunters, L.P., have ambitions of bringing up the ship's contents by Winter 2009, and continue operations on other valuable cargo's worldwide.
###