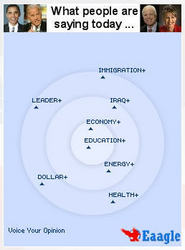 What should be the candidate's top priority for America?
Chicago, IL (PRWEB) October 3, 2008
Eaagle Software launched a website today that allows individuals to voice their opinion about what needs to be addressed by the U.S. presidential candidates. The U.S. Elections website asks the question, "What should be the candidate's top priority for America?"
Typically, election polls allow structured responses to multiple choice questions. The answers are then tabulated and results are shown in a chart that displays the percentage of people making a particular choice. Eaagle Software, using the technology found in their Full Text Mapper (FTM) product, provides an analysis of full text responses by individuals. "Our website allows individuals to fully express how they feel about specific topics that are important to them," states Pierre Kergall, COO of Eaagle. "Not only can people express WHAT is important to them, they can tell you WHY it is important. This is the power of full text analysis."
Individuals who visit the website at http://www.eaagle.com/uselections/ can view a map of how others responded to the question and can add their own responses to be included in the map. A new map is generated each day and provides a daily view of how topics and sentiments vary based on issues being faced by the world. "Our hope is that the candidates will look to this website to see exactly what is important to people and how current events are affecting their world," adds Kergall. "With full text analysis, individuals can discuss a wide range of topics and candidates may discover that people are very concerned about a topic that they did not even consider of importance."
The visual map provided on the website shows the topics that are being most frequently discussed. An indicator arrow shows if the topic is new to the map or appeared in the previous map. This helps to identify topics that are emerging based on current events. "You can click on any topic within the map and view selected responses submitted by individuals," explains Kergall. "With the technology presented at this website, our presidential candidates are poised to be among the most informed and reactive candidates that have been seen to date."
 
About Eaagle
Eaagle is a global provider of specialized data and text mining software that empowers organizations to leverage full text information and transform it into a strategic asset. Our breakthrough technologies enable customers to visualize and analyze unstructured information and discover knowledge.
About Triviumsoft
Founded in 1992 by mathematician Michel Authier and Stanford University Professor Michel Serres, Triviumsoft is a leading provider of talent management software solutions. Triviumsoft solutions help Fortune 500 organizations manage and develop their talents. Triviumsoft Group partners include world class consulting firms such as Accenture and Capgemini.
Press Contact
Tiffany Oxley
Eaagle
847-464-2484
###