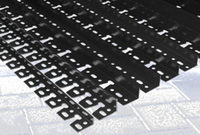 Villa Park, IL (PRWEB) October 3, 2008
Oly-Ola Edgings is the leading producer of premium grade commercial paver restraint and landscape edging products made in the US. The company has sustained its practice of producing paver restraints of select 100% recycled materials since introducing Bric-Edg™ in 1992. Oly-Ola now offers paver restraints in six styles to fit a variety of paver projects and installation preferences. Not only are all the company's products "green" in nature (and black in color), Oly-Ola offers a true blue guarantee unrivaled in the industry.
In order to sustain customers' high expectations, Oly-Ola is very selective of the 100% recycled vinyl used in its paver restraints. Oly-Ola paver restraints are engineered with thick wall construction and specially designed "key-hole" cuts to make them strong, flexible, and durable.
A range of size, backside configuration, and keyhole placement styles make Oly-Ola paver restraints an ideal choice for paver, concrete, brick, asphalt, and stone walkway and driveway installations with no cutting or snipping necessary.
Available in either rigid or flexible sections, 15-ft. or 7 1/2 ft. lengths (with a 90 ft. minimum order), Oly-Ola Paver Restraints are anchored by non-bending steel stakes that eliminate gapping, frost heave, contractor callbacks and hold professional landscape jobs securely.
Oly-Ola Edgings' is well known for unsurpassed customer service including their 15 Year 100% Plus Guarantee and Hassle Free Shipping policies. The industry-unique 15 Year 100% Plus Guarantee Policy includes labor, materials and freight costs on all products and their Hassle Free Shipping Policy expeditiously handles freight and shipping matters
Founded in 1978, Oly-Ola, Edgings, Inc., headquartered in Villa Park, Illinois, USA, produces the most complete line of polyethylene/vinyl edging and paver restraints in the landscape industry. Products are sold exclusively through landscape distribution centers, landscape contractors, architects and independent nursery/garden centers. Oly-Ola stocks a large inventory to prevent backorders and assure prompt delivery. Oly-Ola has an international distributor network and supports many national and state landscape organizations.
For more information contact Oly-Ola Edgings, Inc., 124 E. St. Charles Road, Villa Park, IL 60181.
Phone: 800/334-4647. Fax: 630/833-0816.
###