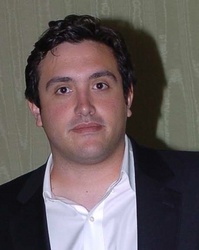 We are not just looking for the Mega Star. We strive to focus and breakout our young talent. However we will also provide A-List Stars with strategic opportunities that will generate significant on-going revenue streams
Orlando, FL (PRWEB) October 1, 2008
The "New Kid on the Block" is breaking out of the Orlando, Florida entertainment scene. Michael Cammarata, the President and Founder of (CMI) Cammarata Management, is a successful entrepreneur who is increasing the opportunities of young, talented musicians and actors. The "Prodigy of Influence" is the cornerstone philosophy of Cammarata Management, which combines the use of a network of key relationships with an innovative multi-media approach. It builds on the use of new technology which includes Michael's knowledge management system, a system currently being utilized by a number of the world's largest manufacturers and retailers. This allows him to promote and showcase the clients of his entertainment management company in a unique way.
So many young stars, and for that matter, accomplished A-list talent, have not yet taken full advantage of the revenue potential and the true power of Internet Media. Michael Cammarata states, "Many an A-talent star is losing millions in potential revenue by not correctly harnessing the full spectrum of the Internet Medium. Everyone utilizes the Internet, but Super Stars are losing millions of dollars each year by not adequately capitalizing on their brand. The playing field is not really level. Artists like Coldplay, Radiohead, and 50 Cent realize this; they have used this knowledge to their advantage by creating branded websites which function as their releasing point of exclusive content to their fans and subscribers. The Mega Stars do not envision how much revenue is possible by focusing their exclusive content and product within their own branded site. CMI Management has been heavily involved in supporting talent's ability to achieve this goal."
"We are not just looking for the Mega Star. We strive to focus and breakout our young talent. However we will also provide A-List Stars with strategic opportunities that will generate significant on-going revenue streams," Michael Cammarata continued. "Cammarata Management is uniquely positioned to capitalize and support our talent to insure they maximize their revenue potential in this new marketplace, while building on traditional entertainment venues. This approach empowers Cammarata Management clients to be in control of their brand. While major media companies are optimizing the careers of stars like Vanessa Hudgens and Zac Efron through music and television, CMI goes beyond the conventional and utilizes a new strategy."
Michael Cammarata first launched CMI by recognizing talent before their breakout performances, and focuses on providing them with the innovative strategies to propel them to achieve their highest economic status. "Every talent we sign is the real deal. Cammarata Management clients are accomplished vocalists as well as proven actors," said Cammarata. CMI develops the full potential of their clients by engaging the best professionals in the music business to partner with them, insuring their success. In addition, CMI maintains excellent working relationships with the most recognized theatrical agencies.
CMI also represents major sports personalities and their pay per view events, with the objective of expanding pay per view events by adding more exclusive content offerings that enhance their clients' ability to increase their revenue. You will see more of this from CMI over the next 12 months.
Michael Cammarata is a recognized and accomplished entrepreneur in the media business. His media companies have over 700 advertisers online. They reach millions of people daily (160 million a month). This is a synergistic advantage to CMI's signed talent as it provides a vehicle to monetize CMI's clients' brand. Brands are built around more than just faces. Still under 30 years old, Michael is known as a change agent, visionary, and market- maker to his clients and strategic partners. Big box retailers already utilize Michael's platform. He directly translates his unique marketing skills to CMI's clients in an almost product-like management way.
CMI has recently announced the signing of the actor/singer Tyler Shamy, who is a rising star. Tyler will be going forward with a major recording deal this fall. CMI also added to their roster by signing guitarists James Killgallon and Josh Coulumbe. James Killgallon, was written up in Billboard as being the next Jimmi Hendrix. Josh Coulumbe, is on the road with the female artist Lennon on her European tour. "Tyler is more than the voice of Surfer Dude (Sony Surfing)," said Michael Cammarata. Tyler is featured in the new Wayans Brothers film "Snowflake", and has had a guest appearance on several television series, such as Two and a Half Men and General Hospital. Tyler has become a sought-after talent.
Michael, seen as the "New Kid on His Block" in Hollywood, has (since the age of 13), has been a leader in the forefront in media advertising in the online marketplace. His companies are privately held with offices on both coasts. CMI is effectively capitalizing on recent trends. "There not many companies, if any, that can do what CMI does."
Contact:
Richard Victor
Richard @ cammaratamanagement.com
866-606-4184
###