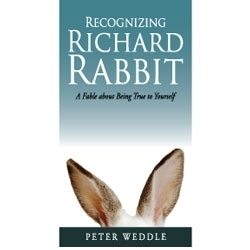 It's astonishing just how effective American workers have been given that most are not using all of the talent with which they've been endowed
Stamford, CT (PRWEB) October 1, 2008
In one of the most difficult economic environments on record, American workers are struggling to achieve career success with half their brain tied behind their backs. That's the provocative claim by Peter Weddle, the author of an innovative, new business fable entitled Recognizing Richard Rabbit.
"It's astonishing just how effective American workers have been given that most are not using all of the talent with which they've been endowed," said Weddle. "If they're creative, they rely on the right hemisphere of their brain and ignore the left. If they're analytical, they turn to the left hemisphere of their brain and forget about the right. It's a natural propensity, but one with especially serious implications today."
"In effect, America's working men and women are confronting the most challenging workplace and the most difficult job market in several generations," he added, "and doing so with just half of the insight and wisdom they possess."
Weddle's new book, Recognizing Richard Rabbit (ISBN 978192873444-4, $11.95), is designed to correct that shortcoming. It's a fable, like the bestselling book Who Moved My Cheese?, but while that story focused on organizational effectiveness, Weddle's fable explores the secret to personal effectiveness. It's a tale about some forest animals that learn just what it takes to find "the You of your dreams," the authentic person who represents the best of you that you can be.
Unlike traditional fables, however, Recognizing Richard Rabbit empowers the reader to acquire this self-knowledge by using all of their brain:

On the right hand page of the book, they can read the fable. A simple story with a gentle message, it encourages readers to use the right hemisphere of their brain to tap their imagination and discover their own true self.
On the left hand page of the book is a self-interview that parallels the fable. A probing series of interlocking questions, it asks readers to use their logic to identify and overcome the impediments to being faithful to themselves.
Together, these two pathways--one in fiction, the other in nonfiction--bring the reader to a more complete and wholesome recognition of their best self so that they can be the masters of their career, rather than the victims. The book is just 107 pages long, yet it is the most engaging and introspective journey many workers will ever take.
About Peter Weddle
Peter Weddle is the author or editor of over two dozen books. Described by The Washington Post as "a man filled with ingenious ideas," he has spoken to corporate meetings and conferences all over the world and has been a guest on numerous television and radio programs. Recognizing Richard Rabbit has been described as "a magical way to explore the essence of you." His presentations about the fable are equally as insightful and inspiring.
For additional information, please contact WEDDLE's LLC at 203.964.1888. Recognizing Richard Rabbit is available from Amazon.com and leading bookstores nationwide.
This press release was distributed through eMediawire by Human Resources Marketer (HR Marketer: http://www.HRmarketer.com) on behalf of the company listed above.
# # #