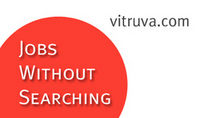 The hours and days spent scouring LinkedIn for jobs is reduced to seconds with Vitruva's job matching technology
Waltham, MA (PRWEB) October 1, 2008
Career site Vitruva, Inc. today empowered LinkedIn users in America to leverage their existing profiles to find jobs using Vitruva's system.
LinkedIn is a valuable professional networking Web site and a favorite sourcing tool among recruiters. However, finding a job that accurately fits one's LinkedIn profile is as time-consuming a chore as it is on any job board due to the inefficient, manual keyword-based job searching.
Now, for the first time, millions of U.S. LinkedIn users can enjoy the benefits of high-accuracy job matching by leveraging their existing professional profiles. Users can import their profiles into Vitruva's system, where its patent-pending artificial intelligence engine matches the profiles with thousands of pre-qualified job opportunities. The matching is done instantly, confidentially, at no cost to job seekers.
"Vitruva finds well-qualified job opportunities for people, and the LinkedIn network helps them find contacts inside of the company," said Jindrich Liska, chief executive officer and founder of Vitruva.
Profile-based job matching is completely effortless for job seekers. Once the public LinkedIn profile is imported into Vitruva's system and the user's preferences are specified, the matching engine automatically creates dynamic connections between the job seeker and matching jobs. Vitruva evaluates users' profiles in recruiter-like fashion. This results in a level of job-matching accuracy that has never been possible before. Each match is scored and ranked to quickly guide a job seeker to the best opportunities.
Members automatically receive notifications about job opportunities that accurately match their professional experience, skills, education and personal preferences, such as compensation, location, insurance and retirement plans.
Vitruva's system accurately matches professionals at all levels of an organization, from high-level executives to junior staff members, in seven areas including information technology, sales, marketing, engineering, accounting and banking, human resources and legal.
"The hours and days spent scouring LinkedIn for jobs is reduced to seconds with Vitruva's job matching technology," said Liska. "Users can focus on networking and advancing their careers while their job assistant--Vitruva--searches non-stop on their behalf."
To view the live demo, visit http://www.vitruva.com.
About Vitruva:
Vitruva is a leader in profile-based semantic job matching technology. Vitruva;s patent pending system powers its second-generation career website, which accurately connects job candidates with job opportunities. Job candidates are notified, in real-time, of job opportunities that precisely fit their unique skills, work experience and work preferences without having to spend time searching for opportunities. For employers and recruiters, Vitruva offers an intelligent and powerful talent-sourcing system that instantly and efficiently identifies highly qualified candidates. The company was founded in 2006, with headquarters in Waltham, Massachusetts. For more information, please visit http://www.vitruva.com.
Media Contact:
Adriana Saldana
Fisher Vista, LLC / HRmarketer.com
831-722-9910
asaldana(at)hrmarketer.com
This press release was distributed through eMediawire by Human Resources Marketer (HR Marketer: http://www.HRmarketer.com) on behalf of the company listed above.
###