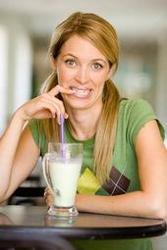 Even though you'd never guess it from her spot-on portrayal of Sarah Palin in the YouTube video, but trust me, she is.
Hollywood CA (PRWEB) October 3, 2008
Actress/Comedian Ker'in Hayden has just released a controversial music video spoofing Governor Sarah Palin as a fascist hypocrite. The video can be seen (below) or at http://www.youtube.com/kerin1. This video has grabbed the attention of over 200,000 viewers in just a few days, with no slowing in sight, and has more than a few Republicans very upset! "You'll understand why once you've seen this video!" says Music Editor Bruce Stephens of indiemusicreviews.net. "This YouTube video really hits! It's that perfect combination of insightful commentary and killer material. Just hilarious!" continues Stephens.
Ker'in Hayden is one of the most talked about comedians/actors on the L.A. circuit. She's been featured on Entourage, The Bold and The Beautiful, MTV, Comedy Central and CW network. She's done film: Life Goes On, kerin Dangerous Worry Dolls, The Worst Noel, Approaching Midnight, Falling Snow, A Good Hand and more. She also performs regularly as a stand up comic at the Hollywood Improve, Comedy Store, HaHa Cafe, Comedy Union, Ice House, and more. Heck, she was even co-host of the Hurricane Katrina Benefit Concert on MTV. The woman gets around! And always with a twinkle. Always with an insightful twist. Always just plain FUNNY.
"She lives her life as a perpetual student of life and the endless quirks of humanity, which spurred her ability to gain that indefinable skill set to create her own productions." One of those productions, the now infamous "Sarah Palin Def-Jam" video viewed on YouTube by over 200,000 YouTubers, is a sharp example of Hayden's wit. Palin is an easy, obvious, and fun target for PETA member and avid environmentalist Kerin. Donning a wig and Sarah Palin wardrobe, Kerin plows though a hilarious wasp-like, rap touching upon Palin's anti-abortion rights, and the excessive development of the Alaskan pipeline to the detriment of the environment. The production ends with an insane image of Sarah Palin (Kerin) firing machine guns into the air and then ducking possible falling bullets. It's enough to bring a giggle to even the staunchest republican. "Ker'in's natural humor is all pretty evident in her comedy," says Stephens.
She's studied in Detroit at Second City and at Jeff Daniels' Purple Rose Theater in Michigan, further honing her skills and comfort before an audience. Now she's a Hollywood resident and taking L.A. by storm. "Oh, yeah. Did I mention she's drop-dead gorgeous?" Stephens continues. "Even though you'd never guess it from her spot-on portrayal of Sarah Palin in the YouTube video, but trust me, she is."
"The point is that Ker'in Hayden is about to burst into big-time. She's cute, she's intelligent and (she used to be a school teacher for Christ's sake!), and most important she's wicked funny. She's a star in the making, and you have just got to know her!" exclaims Stephens. Ker'in will be performing at The Comedy Store on October 15th, 2008.
# # #