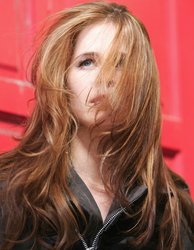 With the news media telling us that the sky is falling over the economy, we need to take a little time to laugh as well as worry
Hollywood, CA (PRWEB) October 1, 2008
The Jenn Frederick camp is ecstatic as her new release "I Shoulda Been Blonde" is number 37 on the Hot Dance Club play charts. Dave Aude, remixer of the latest Pussycat Dolls single "When I Grow Up", created masterful remixes of "I Shoulda Been Blonde" that sizzle. DJs from Philadelphia to San Jose are spinning it in the hottest clubs across the USA. The fresh, fun pop dance song has the sass appeal that makes you laugh.
"With the news media telling us that the sky is falling over the economy, we need to take a little time to laugh as well as worry," says Jenn. "Helps us keep our balance." Universal is distributing digitally and the song is available on iTunes, etc.
Jenn has begun developing her clothing and accessory line with the "I Shoulda Been Blonde" theme. The first items can be viewed on her website (click here). She's most enthusiastic about the wildly elegant crystal beach T. Designed for those special dance nights, using over 400 pieces of crystal put together in three different sizes to create a unique look.
She is heading back into the studio to cut her follow up single with plans to release this winter.
###