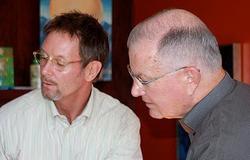 Carlsbad, CA (Vocus) October 1, 2008
DESIGNER WHEY has unlocked the mystery of quick and easy nutrition by developing products that cater to the on the go lifestyle.
WHY: Life has become more hectic, over scheduling has become the norm, and proper nutrition and health has gone by the wayside. The grab and go mentality has people eating drive through on the way to their next event.
How is one supposed to find time for packing snacks much less for eating healthy? Busy men, women, moms and dads all want to find the perfect work and life balance. Everyone is looking for travel convenient snacks and healthy enhanced beverages. Skipping meals has become all too easy in efforts to afford other activities more time.
WHO: David Jenkins, a three-time Olympic medalist for the United Kingdom, has pioneered the use of whey protein for not only sports performance, but for weight and hunger management that fits in to a busy lifestyle. Jenkins' DESIGNER WHEY, America's #1 Selling Protein*, when used prior, during or immediately after workouts help obtain better results by speeding recovery, increasing stamina, managing hunger, while maintaining energy levels.
Jenkins has grown DESIGNER WHEY from a specialized start-up to the leader in innovation for the whey protein industry. As one of, if not the largest privately funded researchers, DESIGNER WHEY has contributed more than $10 million (USD) toward the research of whey protein.
WHAT: Many DESIGNER WHEY products come in handy, single serving sizes that can be added to a bottle of water for an instant, nutritious snack; perfect for anyone with an 'on the go' lifestyle. DESIGNER WHEY protein powders and ready-to-drink Protein BLITZ? drinks are great tasting products, easy or no preparation, and provide a hunger curbing energy boost. Step outside of the protein shake box: add DESIGNER WHEY powders to most snack items to boost flavor, and increase protein. It mixes well with yogurt, oatmeal, pancakes, and other baking recipes.
Whey protein is not only for body builders and fitness buffs. DESIGNER WHEY is for anyone who is struggling to eat properly while juggling a busy family, a demanding job, and exercising regularly. Jenkins can provide insight on:

Maximizing nutrition with the use of whey protein
Why whey protein is so important for good health
The key benefits of whey in a healthy lifestyle
What whey is, how it is made and what it can be used for
Why he is so passionate about whey and future DESIGNER WHEY innovations
Whey protein has been called nature's ultimate functional food. Easily digested whey refuels fat-burning muscles with vital amino acids, helps to decrease the feeling of hunger, and can help fight the effects of aging on a cellular level. Whey protein also contributes to making the body's most powerful antioxidant, glutathione.
The revolutionary benefit of DESIGNER WHEY products is the utilization of whey, a protein-rich component of milk. Including whey protein in a daily diet by way of powdered drink mixes, breakfast foods, baked goods, flavored waters and other versatile products is one of the best ways to increase overall health.
WHEN: David Jenkins, CEO and Founder of DESIGNER WHEY is available immediately to respond to media inquires.
WHERE: DESIGNER WHEY in Carlsbad, CA. David is accessible for telephone and email interviews and understands reporter's time constraints and deadlines.
HOW: To set up an interview, Please contact Don Williams at (760) 707-4589 or don @ williamsgrouppr.com
*Based on AC Nielsen sales monitoring for 52 weeks ending August 9, 2008, DESIGNER WHEY brand is #1 in Unit Sales for high protein powder in US-FOOD for 164 weeks straight.
###