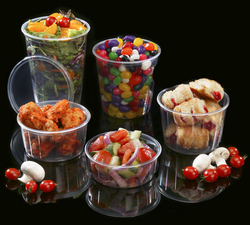 The current perception of deli cups is that they are pretty generic
Vernon, Calif. (PRWEB) October 1, 2008
Think there's nothing new in the world of deli cups? Think again. The new Deli-Wave™ Cup from PWP Industries challenges assumptions about how a deli cup can turn a typical deli experience into a premium one.
"The current perception of deli cups is that they are pretty generic," says Ira Maroofian, President & COO, PWP Industries. "We've introduced a new kind of container that will help improve deli sales by showing the product inside at its best while creating a visually appealing, up-scale display for the retailer. We are always looking for ways to improve packaging to give customers new and better options than what is currently available."
The new container sports a unique, sophisticated wave design that stands out on-shelf and protects food with superior strength. A secure, air-tight seal locks in freshness for maximum product shelf life. The Deli-Wave™ cup is microwave and refrigerator safe - perfect for hot, cold, wet or dry foods.
Resistant to oils, this container is well-suited for deli-fresh foods, such as fruit, dressed salads or foods made with sauces or accompanied with dips. It is also perfect for bakery, confectionery and snack food applications. With this leak-resistant container, on-the-go consumers won't need to worry about foods losing freshness or messy spills when in transit. Plus, because the Deli-Wave™ Cup's design uses less plastic than traditional deli cups, it is an environmentally-friendly choice for retailers. It's reusable, resealable and recyclable, attributes today's "green" consumers value.
With the same price as a smooth-walled deli cup, the Deli-Wave™ Cup's premium look comes at a price that won't break the bank. The container is available in 8, 12, 16, 24 and 32-ounce sizes with a 4-inch clear, recessed lid. Deli-Wave™ Cups come in case packs of 500 or as a combo in case packs of 250 lids with 250 cups. PWP sells truck load quantities or through distribution. For more information on pricing and sales, please contact PWP Industries, toll-free, (877) 700-0330.
PWP Industries, founded in 1998, is a leading PETE and Polypropylene food packaging thermoformer in North America, with manufacturing plants located in Vernon California, Abilene Texas, and Mineral Wells West Virginia. PWP is highly regarded in the food packaging industry for producing competitively priced quality parts, superb customer service, and innovative product designs.
###