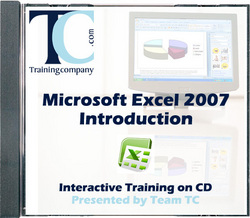 Employing a variety of learning techniques helps users of a software package to consolidate their knowledge
London (PRWEB) October 2, 2008
TrainingCompany.Com, a London-based software training provider, today announced the release of its interactive training CD on Microsoft Excel 2007.
The self-paced training course is aimed at two types of user: firstly those who are new to Excel or have never been shown the full potential of this amazing product; and, secondly, those who have recently upgraded to Excel 2007 and are looking to get up to speed on the program's new interface and new features.
Users of this CD title will learn how to navigate and use the Excel 2007 interface; how to enter, edit and format data; how to create formulas and functions and how to enhance their reports with charts and graphics. Formulas and functions are at the core of Excel and account for much of its power. This title explains all the key aspects of building formulas and shows detailed examples of their use. All the files used by the instructor on each video are supplied on the CD enabling users to follow along and practice each technique being demonstrated.
"Employing a variety of learning techniques helps users of a software package to consolidate their knowledge," explained Alex Charles, a member of the course development team at TrainingCompany.Com. "Both tutor-led training and computer-based training have their part to play in helping users to master a software package. This is why TrainingCompany.Com is offering a free refund of the CD price to any buyer who subsequently attends the tutor-led equivalent of the CD-course. Our public training courses are held at the company's central London training centre and cover the same material included on the CD. "
Pricing and Availability
The TrainingCompany.Com Introduction to Excel Training CDs are available individually for £39 each. Further information and online ordering is available at http://www.trainingcompany.com. Free sample videos taken from the CD have been made available at http://www.trainingcompany.com/samples/excel1.
About TrainingCompany.Com
TrainingCompany.Com provide lively, well-designed training courses which are available both as interactive training CDs and public courses at their central London training centre. Courses are based on practical examples and exercises featuring real-world techniques which delegates can implement and put into practice straight away.
###