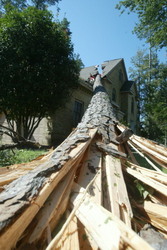 HMI and Arbor Masters are providing an extra level of comfort and support to property owners already overwhelmed by the enormous destruction of the storm
Cary, NC (PRWEB) October 2, 2008
Horticultural Asset Management, Inc.'s (HMI's) tree claims support and disaster recovery service, along with network member Arbor Masters, one of the largest full service tree companies in the Midwest, continues to provide emergency claims support and tree removal services in Texas. Since the storm roared ashore on September 13, the team has assisted more than 150 victims of Hurricane Ike. The HMI-Arbor Masters team mobilized prior to the storm in an effort to provide fast, reliable and expert services to anyone suffering tree damage.
"HMI is thrilled to have Arbor Masters as a part of our national claims support network and to be working side by side with them as we assist the victims of Hurricane Ike," said Doug Malawsky, Executive Vice President and COO of HMI. "The Arbor Master crews of certified arborists and accredited tree care professionals are working very long hours and providing expert tree care and removal services for property owners who have suffered damage or losses. They are to be commended for their efforts," Malawsky added.
HMI created the first national network of professional tree care experts who can provide a turnkey solution to insurance companies, disaster recovery services and restoration companies regarding damage caused by trees. In addition, having a national network of arborists provides a one stop solution for insurance companies which also may require an arborist opinion or analysis of tree loss.
"HMI and Arbor Masters are providing an extra level of comfort and support to property owners already overwhelmed by the enormous destruction of the storm", said Jerry Day, President of Arbor Masters. "Because HMI manages the claims processing among the insured, tree care companies and the insurance industry, we can stick to what we do best - taking care of the downed or damaged tree and mitigating further damage. We have been doing tree work for over 50 years. We're bonded and insured and know how to take care of tree damage in any situation," added Day.
HMI's network provides all services related to tree claims and tree damage recovery, including tree and debris removal, reports to support subrogation actions, and replacement cost values for lost trees and shrubs. When a claim is received a tree care expert is immediately sent to the loss location to inspect the damage, determine urgency, and provide pictures and an estimate for adjusting purposes.
About Horticultural Asset Management, Inc. (HMI)
In addition to claims support services involving tree loss, Horticultural Asset Management, Inc. provides revolutionary products and services that are utilized by the insurance industry as well as the tax, legal and real estate industries. HMI's Horticultural Scientific Standard (HS² ™) enables HMI to provide accurate replacement costs for landscape assets thus accurately rating these assets for insurance purposes. HMI also provides insurance companies risk mitigation inspections of large trees surrounding homes and businesses which could cause extensive damage if they were to fall.
About Arbor Masters
Established in 1956 as a residential tree service company, Arbor Masters Tree Service was previously known as Shawnee Mission Tree & Landscape.
This third generation family-owned business now provides a full scope of tree, landscape, plant care and turf services in the metropolitan areas of Kansas City, Wichita, KS, Oklahoma City/Tulsa, OK, Ocala, FL, and Ft. Worth, TX. Additionally, the Emergency Storm Response division provides clean up and tree pruning services throughout the United States.
In order to report a claim involving a tree loss contact HMI's claim support hot line at (877) 406-3232.
###