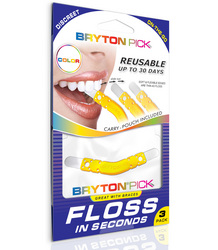 Palm Beach Gardens, FL (PRWEB) October 10, 2008
In today's competitive and fashion-conscious world, appearance is everything. Research shows that it takes mere seconds to make a first impression when meeting someone, and often a person's smile is the first thing we see.
Thus, it is no surprise that every year people spend thousands of dollars in an attempt to achieve a beautiful, confident smile. With the invention of Invisalign® braces, achieving that perfect smile has never been easier, since the Invisalign® trays are less noticeable and more convenient than other methods of straightening teeth. "The only inconvenience lies in the fact that Invisalign® users must remove the food debris from between their teeth after every meal in order to re-insert the tray". It is important for all Invisalign® users to do this in order to prevent tooth discoloration, bacterial growth and other oral hygiene consequences.
This leaves Invisalign® users with a dilemma. Traditional flossing methods are not only time-consuming and boring, but simply inconvenient. In the past, there has been no alternative that would make the process easier, faster and more socially acceptable. Fortunately, Toothguard Dental Instruments has developed a solution for Invisalign® users everywhere. The product is called BrytonPick - FLOSS In Seconds, and it is a simple way to clean interdental spaces while on the go.
BrytonPick is a small, portable device with flexible edges as thin as dental floss that slide between teeth to remove food debris and bacteria. What makes BrytonPick very different from flossing, and truly revolutionary, is its ease of use, design, and flat germ-resistant cleaning surface. Also, its credit card-sized carrying case makes it easy to carry everywhere. BrytonPick can fit into any purse or wallet, making it perfect for Invisalign® users since it allows them to eat without the fuss of flossing after each meal.
Not only is the product extremely useful and easy-to-use, but its sleek design and array of colors makes it the perfect fashion accessory for anyone. BrytonPick's fashion-forward approach makes flossing socially acceptable, and banishes embarrassment when it comes to oral hygiene. Even better, BrytonPick is a recyclable product, and it is reusable for up to 30 days - making it not only environment friendly and convenient, but also incredibly affordable.
For the most fashion-conscious consumer, BrytonPick is available in a celebrity edition with a chic and more expensive carrying case. The case is covered in Swarovski crystals, or even with real diamonds, to present a statement that oral hygiene can be fashionable and no longer a hassle for anyone.
The BrytonPick dental space cleaner is now available for purchase online and in retail stores.
###