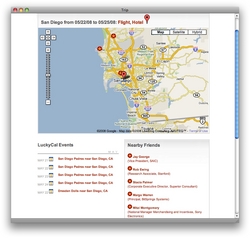 LuckyCal surfaces relevant contacts and events for each trip, letting you travel less while selling more
Boston, MA (PRWEB) October 3, 2008
LuckyCal Inc. is pleased to announce that it is one of the top three selections by judges at the GigaOm Mobilize 08 Launchpad. GigaOm.com, written by highly-respected tech industry journalist Om Malik, is widely considered the authoritative tech blog site for discovering what's new, relevant, and interesting in the dynamic world of technology.
The Mobilize 08 Launchpad gave thirteen preselected startups four minutes to distinguish themselves before an experienced panel of judges. This year's panel of judges included Ryan Block, Editor, GDGT.com, Tim Chang, Principal, Norwest Venture Partners, Nagraj Kashyap, Sr. Director, Qualcomm Ventures, and James Kendrick, jkOnTheRun.
LuckyCal Inc. was awarded the third place judge's award. See LuckyCal founder Sanjay Vakil's award-winning presentation.
LuckyCal uses Predictive Presence Technology to figure out where you're going to be, and helps you decide what to do while you are there. "LuckyCal surfaces relevant contacts and events for each trip, letting you travel less while selling more," says Sanjay Vakil, Ph.D., LuckyCal founder. It anticipates the things you want to do - meet additional clients or coordinate a sales pitch with colleagues - and makes it easier to get them done.
One of LuckyCal's most compelling features maps out all of your contacts, and events that you might be interested in, for upcoming trips. You can see where you're going to be and determine who else will be near by during the same time period, making it easy to decide which days will be the most productive and fun to travel on. LuckyCal also allows you to buy tickets to events and book flights and hotels, all from within your calendar. LuckyCal doesn't require you to use a new calendar or scheduling system as it supports major scheduling systems (Google, Facebook, Outlook) so that you don't have to re-enter or update any of your information.
Vakil received his Ph.D. in Aerospace Engineering from MIT and previously co-founded Newton-based PatientKeeper, a healthcare IT company. He is joined by a small team of experienced engineers with over seventy collective years in the IT industry.
###