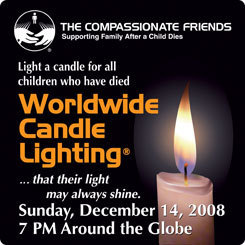 Now people are contacting us from around the world to get details.
Oak Brook, IL (PRWEB) October 2, 2008
Everyone is invited by The Compassionate Friends to participate in the twelfth annual Worldwide Candle Lighting® Sunday, December 14 in remembrance of all children who have died, regardless of age or cause of death. The candle lighting, which lasts for one hour, begins officially at 7 p.m. local time and hundreds of events open to the public are planned throughout the day.
Churches, synagogues, hospices, funeral homes, civic organizations, and all formal and informal groups are invited to participate in what today is believed to be the world's largest mass candle lighting.
The Compassionate Friends self-help bereavement organization has more than 600 chapters in the United States and a presence in at least 30 countries around the world.
"During the holidays, it's important for families that have lost a child to have at least one day when they can unite with others to remember that child and all children who have died," says Patricia Loder, executive director of The Compassionate Friends.
Last year nearly 500 Worldwide Candle Lighting remembrance services were submitted and listed on TCF's website, which included services in all 50 states plus Washington D.C. and Puerto Rico. Information was submitted on events held in 24 countries globally.
In addition to formal services, anyone who is unable or does not wish to attend a service is invited to light a candle at 7 p.m. whether alone or with family and friends.
"We have watched this event grow every year since it started as a small Internet observance twelve years ago," adds Mrs. Loder. "Now people are contacting us from around the world to get details."
Last year The Compassionate Friends was joined in observance of the Worldwide Candle Lighting by chapters from several national organizations including Twinless Twins, MADD, Parents of Murdered Children, MISS, and BPUSA.
Full information on the Worldwide Candle Lighting is available on The Compassionate Friends national website at http://www.compassionatefriends.org including a downloadable brochure designed to help those interested in planning a Worldwide Candle Lighting memorial service. No matter what time you hold your service, you are welcome to submit your event details to be posted on the website.
Everyone is also welcome on the day of the Worldwide Candle Lighting to post a message in TCF's Remembrance Book. Last year several thousand postings were received.
For more information, call The Compassionate Friends at 877-969-0010 or visit http://www.compassionatefriends.org.
###