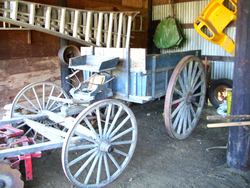 These are actually old items from farm folks
Atlanta, GA (PRWEB) October 2, 2008
The Saturday, Oct. 4, auction of a Chelmsford, Mass., dairy farmstead and estate, which offers a chance to touch and purchase Americana, is a rarity in two ways.
First, the auction of antique and collectible farm equipment, tools and other items from the Duncklee Dairy Farm such as these don't often come up for bid, said Walt Kolenda who is handling the auction. The elderly couple who owns the estate is moving to a condominium in New Hampshire and has decided to put the whole lot up for sale.
"These are actually old items from farm folks," said Kolenda, who is also known as Auctionwally. "Farmers generally never let these kinds of things go. They'd rather give you their right hand than give them up."
The second reason this is a rare auction is that it is a total auction with nothing held back, no minimum bids and no reserves, meaning no dealers or preferred buyers were allowed to cull through the items to pick out the best. It is an entirely fresh-to-market auction, with most of the lot having not seen the light of day in decades. Because of the vast number of items up for bid, the auction will be held at a landscaper's yard in Groton, Mass.
Among the items available is a pair of circa-1880 buckboards, various antique farm implements and tools, a Victorian two-seater sleigh and furniture. "The wagons and other items are in original condition. They haven't moved from dealer to dealer and show to show. The work wagon has a dump body and a tailgate. It was the pickup truck of 1870-80s, used for hauling," Kolenda said. "The other one is fancier. It's stenciled, the wheels are not as heavy duty, and it has handrails for passengers in the back."
There are also items from the 1940s, '50s and '60s, including fur coats, stacks of records (LPs, 45s and 78s) and comic books (Superman, Tarzan, Lone Ranger, Disney). One item that has already drawn special interest is a 1960 Cub Cadet Tractor model number 100, the first model the company ever manufactured.
You can find more details and a video about the items on the WorthPoint site at http://www.WorthPoint.com/editorial/auctioning-old-farmstead.
The owners of Duncklee Dairy Farm made due with what they had, and what they had at one time were several 8-feet-by-2-feet enamel advertising signs that read: "Educator Biscuits and Cookies," "Cape Cod Biscuits" and such. These signs, noting that 48 cookies sold for 25 cents, are worth in the $1,000 range now and were used in the barn as makeshift walls for milking stalls. There will be at least eight of these advertising signs at the auction. The fact is that the organizers can't say definitively what the auction will include because all of the items have yet to be unpacked. The contents of the farm and estate were moved to the P.C. Myette landscaping company to accommodate all the objects.
The Duncklee Dairy Farm and Estate auction begins (rain or shine) with a preview at 10 a.m., and the bidding will get underway at 1 p.m. with an outdoor walk-around auction, as the auctioneer will lead bidders to each of the large items, followed by a seated auction for smaller items and lots (bring your own chairs).
All items will be sold, and no bid will be rejected.
Duncklee Dairy Farmstead and Estate Auction
Saturday, Oct. 4, 2008
Preview 10 a.m. Auction 1 p.m. (rain or shine)
P.C. Myette Inc.
120 Boston Rd (Route 199)
Groton, MA 01450
For more information, contact Walt Kolenda, 978-355-2094
WorthPoint is an Internet-based data and media company that offers a vast database (library) of sales records on art, antiques and collectibles from more than 400 auction houses. Members can share their insights, knowledge and passion to build collecting communities. WorthPoint helps collectors understand the history and value of their items and provides expert advice on how to preserve or sell them. While it does not facilitate the bidding of any items, WorthPoint provides information about upcoming auctions at its partner auction houses.
http://www.WorthPoint.com
# # #