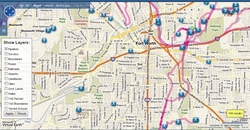 Fort Worth, TX (PRWEB) October 3, 2008
The Barnett Shale, located in and around Fort Worth, Texas, is one of the largest natural gas shales in the United States. Since drilling began, it has attracted millions of private investors and public companies interested in utilizing this prominent energy source. However, the unique situation of urban drilling associated with the Barnett Shale has prompted widespread interest from both industry leaders and the affected community. In an effort to partner with both the organizations involved in the drilling and North Texas residents, local entrepreneur, Shawn McCarthy, has developed a comprehensive website using innovative mapping technology to highlight the Barnett Shale.
The Barnett Shale is a significant geological formation dating back over 300 million years that stretches from the city of Dallas to the city of Fort Worth and then south of both cities totaling over 5,000 square miles. The land mass had previously held challenges associated with capturing the natural gas from the hard-to-drill shale, but recent advances in the technology of horizontal drilling opened up the potential of the Barnett Shale as a major producer of natural gas. This new advancement in drilling has allowed a tremendous number of independent producers, both large and small, to reach the natural gas they once thought unattainable beneath areas such as neighborhoods, schools and airports. Subsequently, this has created a financial boom in the Fort Worth area with an estimated 850,000,000,000m of natural gas resources actively being drilled. However, it has also raised many concerns for local residents and community leaders as they sort out the challenges associated with drilling in urban areas.
BarnettShaleData.com was initially developed as a new type of mapping application to pinpoint horizontal gas well locations utilizing Microsoft's Virtual Earth technology, but has evolved into a complete information application for anyone interested in quick and precise data relating to the Barnett Shale. Users can not only find specific gas well and pipeline data; they can also see the actual locations using three distinct views. The information accessed is ideal for executives, attorneys, real estate professionals, landmen, mineral right owners, energy associations, service companies, local and state government, homeowner associations, media, job employers and seekers, environmentalists, local residents, and operators. All information provided at the site is gathered and verified by third party resources.
"Current oil and gas mapping web applications are complex and targeted to sophisticated operators and service professionals. We wanted to create a mapping and information application that could be used by busy professionals and even local residents who don't have a lot of time to learn complex software programs. Urban gas drilling and lease payments on this scale are new to all of us, so it was important to give all interested parties visibility into well and pipeline locations and critical data," says company founder, Shawn McCarthy.
So far, the company has talked to several operators about integrating the mapping and information application into the operators' existing systems. By doing so, operators hope to simplify their systems and thereby increase their user base and reduce third party license expenses.
The site currently allows users to search for natural gas wells by operators, depth, well type, lease name, royalties, and survey. Users can view pipeline overlays and click on specific locations for pipeline details. It also features a tax overlay that highlights property boundaries and links to the Tarrant County Appraisal District database. In the future, Barnett Shale Data plans to add production data, lease bonus information, a royalty calculator, and other features to their next version update.
For additional information on the news that is the subject of this release (or for a sample, copy or demo), contact Shawn McCarthy or visit http://www.barnettshaledata.com.
Contact:
Barnett Shale Data
817-920-1802
http://www.barnettshaledata.com
# # #