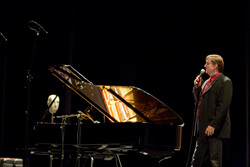 it blew my socks off.
Raleigh, North Carolina (PRWEB) October 3, 2008
Pianist Art Tatum was once described as "the greatest soloist in jazz history, regardless of instrument." He passed away in 1956, the year before stereo recordings. Imagine being able to collaborate with Tatum today, to have him as the front man for your big band in new arrangements and recordings. This was the dream of bandleader Gordon Goodwin, realized with his big band in their new album, "Act Your Age," available September 30.
Art Tatum was recorded anew as part of Gordon's arrangement of the song "Yesterdays," using techniques developed by Zenph® Studios, Inc. Zenph's unique process turns audio recordings into virtual musicians, whose re-performances® precisely replicate how they played in the original recording. Zenph captures the musical nuances of the original recording, with details about the pedal actions, volume, and articulations down to millisecond timings. This new data is played back on a state-of-the-art robotically-outfitted concert grand piano. The process results in the production of pristine new renderings that can transcend the limitations of the original recording process.
In September of 2007, Jon Healey wrote in an editorial in the Los Angeles Times, "because of Zenph, we have a lot more useful knowledge about how Art Tatum played the piano - knowledge that could conceivably lead to a panoply of new creative works." Little did he realize how prophetic these words would become.
The song "Yesterdays" was first performed by Tatum at a live concert in Los Angeles' Shrine Auditorium in 1949. Sony BMG and Zenph Studios went back to The Shrine last year and re-recorded Tatum's playing. They placed a Yamaha Disklavier Pro concert grand piano on the same stage in the same spot that Tatum played and recorded a flawless re-performance on modern equipment before a live audience. Gordon Goodwin hosted this 2007 live concert, and was inspired to write a new arrangement for his Big Phat Band centered around the Tatum re-performance.
Zenph founder and president, Dr. John Q. Walker, said of the new collaboration: "The artistic genius of Art Tatum, so exceptionally re-performed on our 'Piano Starts Here- Live at The Shrine' album with Sony BMG, has given rise to a new creative work -- brilliantly composed, arranged, and performed by Gordon Goodwin and the Big Phat Band. Zenph Studios is proud of our association with this project, and are thrilled by the musicality of these wonderful performances -- separated by time, but united by our technology."
Sony BMG's solo album of Tatum was released in June 2008, and has been enthusiastically received by the critics. "This is a crucially important release in musical history," wrote Stereophile magazine this month. JazzReview.com observed "If you buy only one solo jazz piano recording this year (or any year), make it 'Piano Starts Here.'" Gary Giddins, in JazzTimes, said "it blew my socks off."
Zenph's work was named one of the "Best Ideas of the Year" by The New York Times Magazine and has been featured in The Wall Street Journal, The Los Angeles Times, The Washington Post, Stereophile, The Absolute Sound, National Public Radio, the CBC, and the BBC.
To hear a clip, as well as to learn more about Tatum and the recordings, visit http://www.zenph.com/tatum
About Zenph Studios
Zenph® Studios, Inc. is a software company based in Research Triangle Park, North Carolina. The company's focus is building software for understanding -- and re-creating -- precisely how musicians perform. Sony BMG Masterworks began issuing a series of Zenph's re-performances® in 2007, which feature modern recordings of classic performances with vastly improved sound from perspectives tailored for surround-sound and headphone listening. Zenph's processes create virtual musicians, playing performances identical to past recordings by legendary artists. Whether on stage or via new recordings, the results offer astonishing fidelity. For more information about Zenph Studios, visit http://www.zenph.com
About Gordon Goodwin
Winner of the 2006 Grammy Award for his instrumental arrangement of Incredits from the Pixar film The Incredibles, as well as three-time Emmy Award winner and five-time Grammy nominee, you would think that Goodwin had fulfilled his dreams and achieved all of his goals. Not by a long shot. He has yet another channel for success, as leader of L.A.'s most exciting 18-piece big band jazz ensemble, Gordon Goodwin's Big Phat Band. Established in 2000, the Big Phat Band has quickly become one of the most hard-swinging large jazz ensembles, comprising L.A.'s finest musicians, which celebrates and personifies the best of the big band tradition with a contemporary and original sound. Gordon's witty and insightful arrangements propel the listener on a journey through a myriad of styles: blues, swing, classical, hard-hitting jazz, and even an homage to Looney Tunes. In addition to Art Tatum, "Act Your Age" features Patti Austin, Chick Corea, Dave Gruisin, and Lee Ritenour. For more information about Gordon Goodwin and the Big Phat Band, visit http://www.bigphatband.com
###