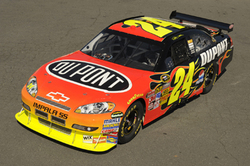 We're in the thick of the 2008 Chase for the Sprint Cup, but we're already looking forward to next year
Wilmington, DE (Vocus) October 2, 2008 –-
DuPont and Hendrick Motorsports today unveiled a new design and color scheme that will appear on the No. 24 DuPont Chevrolet race car, driven by Jeff Gordon, beginning in the 2009 NASCAR Sprint Cup racing series. The Daytona 500, scheduled for Feb. 15, 2009, will be the first official points race of the 2009 season.
The new design, called "Firestorm," was conceived by well-known NASCAR artist Sam Bass, who created the car's previous two designs, including the original "Rainbow Warrior" scheme that appeared on the car when the alliance between DuPont, Hendrick Motorsports and Jeff Gordon was launched in 1992.
In May, DuPont, Hendrick and Gordon announced a contract renewal for the current longest-running sponsor/driver/owner combination in the NASCAR Sprint Cup Series.
"We're in the thick of the 2008 Chase for the Sprint Cup, but we're already looking forward to next year," said DuPont Chief Marketing and Sales Officer David G. Bills. "We think this exciting new design is the perfect vehicle for carrying our brands and messages throughout the 2009 racing season."
In addition to the DuPont "oval" logo, a long roster of DuPont brands and company messages appear with varying frequency on the No. 24 DuPont Chevrolet race car. The list includes DuPont™ Tyvek® Home Wrap, Pioneer® Hi-Bred Seed, DuPont Automotive Finishes, DuPont™ Corian® solid surfaces, DuPont™ Kevlar® high strength material and many others.
DuPont is a science-based products and services company. Founded in 1802, DuPont puts science to work by creating sustainable solutions essential to a better, safer, healthier life for people everywhere. Operating in more than 70 countries, DuPont offers a wide range of innovative products and services for markets including agriculture and food; building and construction; communications; and transportation.
# # #