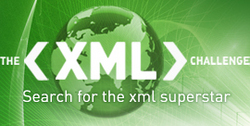 The Search for the XML Superstar
Chicago, IL (PRWEB) October 2, 2008
IDUG®, the International DB2 User Group, today announced the North American launch of the first global competition designed to recognize current and future software superstars. The contest, "The Search for the XML Superstar," is aimed at university students, faculty and professional developers of all skill and experience levels with XML (eXtensible Markup Language) and its related database technologies.
"Members of our user group well know that XML is the next big thing in next generation enterprises," said Julian Stuhler, president of IDUG. "It's changing the way data is handled in every way. With this competition, we're hoping to show that new technologies are important, but not as much as the innovative ways in which people are using them. It's clear to us that the XML revolution has begun. Now it's time to recognize the leaders."
"When universities and businesses collaborate, they build the next generation of skilled information technology leaders to create new opportunities, fuel economic growth and solve challenges that improve the human condition," said Inhi Cho Suh, vice president of IBM Data Management Marketing. "IBM applauds IDUG in championing this important competition. The next generation of software superstars is here. It's time we put the spotlight on them to show what can happen when innovative XML database technologies meet creative, motivated individuals."
The competition comes at a significant time for DB2, as it celebrates its 25th birthday this year. IBM Research pioneered relational database technology and produced the first commercially available database software program in the early 1980s. IBM has continued to invest and lead in the delivery of significant innovations in data server technology such as DB2 software with XML support to provide a seamless flow of information of both XML and relational data, regardless of format, platform or location.
"The flexibility of XML to represent information is tremendous," says Dr. Amjad Umar, Adjunct Professor of Electrical and Systems Engineering at the University of Pennsylvania. "I see that more applications like PISA will be developed in Next Generation Enterprises, where all user inputs, outputs, and databases will be in XML." A distinguished expert on the topic of XML, Dr. Umar has written several books and research papers, and received many awards including faculty awards from Fordham University and University of Michigan. He is also a Senior Advisor to the United Nations ICT for Developing Countries Initiative and a Fulbright Senior Specialist with the US Council of International Exchange of Scholars.
The contest is open to those with all levels of XML and database management experience. For those with no prior knowledge, "The Search for the XML Superstar" provides an opportunity to learn about these important technologies. There are five categories in the competition, which span all skill levels: Video Mania, Gadget Challenge, Query Challenge, Ported Application Contest, and XML Programming.
The Search for the XML Superstar is spearheaded by IDUG, an independent, user-run organization of data management professionals who use DB2 and related technology. IDUG's mission is to support the information services community by providing education and services to utilize IBM's DB2 family of products.
The contest is already running in several countries in Asia and will be rolled out in phases in Europe in October and November. To find out about the contest in your country and learn more about the competition, visit http://www.xmlchallenge.com.
###