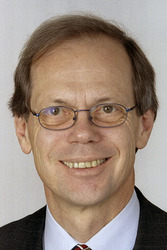 received many requests for a Russian edition, but we know from long experience that editions need to be produced in the area where they circulate. The Russian edition needs to originate in Russia to be done most economically, and there must be a sponsoring group to sustain it
Nashville, Tenn., (Vocus) October 2, 2008
Upper Room Ministries (http://www.upperroom.org) announced that it will launch a Russian edition of "The Upper Room daily devotional guide" in November 2008.
The new edition, launched under the leadership of the Rev. Häns Växby, bishop of the Eurasia area, is among 77 editions published around the world, in 40 languages.
"We have not had a Russian edition since the 1950s," said editorial director Mary Lou Redding. "Over the years "The Upper Room" received many requests for a Russian edition, but we know from long experience that editions need to be produced in the area where they circulate. The Russian edition needs to originate in Russia to be done most economically, and there must be a sponsoring group to sustain it," Redding said.
The devotional magazine, which will be printed in Moscow, has a three-person team at the helm that includes Nicola Vidamour as editor, Ludmilla Ploshkina as primary translator, and Sergei Pogachev as administrator.
Vidamour had her first meditation published in "The Upper Room" when she was 14 years old. "I was learning French at the time and was really thrilled to see my words in the French edition as well as the English one," she said.
The most widely read devotional in the world, "The Upper Room" daily meditations are read by millions of Christians and used in a variety of ministry settings and cultures in nearly 100 countries.
"The beauty of "The Upper Room" is that you have an estimated 8 million people reading or listening to the same thing and praying for similar concerns," said Växby.
Växby, who reads the devotional guide himself, participated in the launch of the Estonia edition and wrote for the devotional guide previously when the World Evangelism Council invited its regional secretaries to contribute meditations during a joint venture with "The Upper Room" in spring 2005.
A meditation that Växby wrote during a writers' seminar held in Estonia in fall of 2007 will appear in the inaugural edition.
Approximately 3000-5000 copies of the first edition will be printed and local churches will help distribute the publication.
"The pastors and lay leadership of the local churches will be our main promoters. We hope that they will read 'The Upper Room devotional guide' themselves and recommend it to members and friends. Even if we have to start in our own United Methodist churches, we hope to spread it locally to other churches, because 'The Upper Room' is interdenominational by nature," said Växby.
There are about 100 United Methodist congregations in Russia that are formally organized as churches among the106 faith communities included in the list of appointments.
According to the bishop, very few people in Eurasia have personal guidance. "To have such a very simple, practical and profound resource that they can read and spend time with God — I think that meets a great need in Russia," Växby said.
Växby also said that October will be a critical month and that he would appreciate it if U.S. Methodists would pray for the translation work that has already begun and that deadlines will be met.
Interest in Russia actually started with the launch of the Estonia edition because a third of the United Methodists in Estonia are Russian speaking. People with relatives or friends in Russia have often indicated that they looked forward to the opportunity to start a Russian edition. Many have said they wanted to be on board.
"This new venture in Russia has the potential to yield a harvest of witnesses to testify about God's love as revealed through Jesus Christ. It will have a tremendous impact on GBOD's mission of making disciples for the transformation of the world," said the Rev. Karen Greenwaldt, top executive for the General Board of Discipleship.
In addition to Russia, plans are to expand into practically all of the former Soviet Union, including the Ukraine, Belarus, Madora, the Baltic States and Central Asia, where Russian is the lingua franca.
Upper Room Ministries, a ministry of GBOD, is an ecumenical organization that produces resources for encouraging deeper spiritual formation, including "The Upper Room daily devotional guide," five other magazines, and a line of books and programs for youth and adults. More information about Upper Room resources can be found online at http://www.upperroom.org.
GBOD's mission is to support annual conference and local church leaders for their task of equipping world-changing disciples. An agency of The United Methodist Church, GBOD is located at 1908 Grand Ave. in Nashville, Tenn. Visit http://www.gbod.org for more information or call the Media Relations Office toll free at (877) 899-2780, Ext. 7017.
Media Relations Office
Jeanette Pinkston
(615) 604-7669 (Cell)
(615) 340-7017 (Office)
jpinkston(at)gbod.org
###