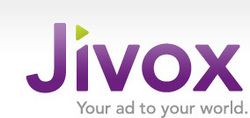 Now with Jivox AdSlate 3.0, we've made it easier than ever for small businesses to create and distribute local video ads that get results.
San Mateo, Calif. (PRWEB) October 6, 2008
Jivox, the online video advertising service that helps small and medium-sized businesses reach local customers, today announced that Jivox AdSlate 3.0, the latest version of its online video ad platform, is now live. Jivox combines a self-service video ad creation tool, proprietary targeting technology, sophisticated reporting capabilities and an extensive network of premium local publishers to offer advertisers a complete service for local online video advertising. Jivox AdSlate 3.0 builds on the success of earlier versions with more robust ad creation tools, expanded distribution methods, greater ease-of-use and improved behind-the-scenes targeting to help companies develop high-impact online video advertising campaigns.
Key new features of Jivox AdSlate 3.0 include:
Advanced Ad Creation
Jivox now supports the creation of very polished and sophisticated ads at no cost to the user. The new version provides more advanced editing capabilities while preserving the simplicity of earlier versions of the service.

Multiple text overlays on both video and billboard ad styles, multiple still images inside the video clip and multi-image billboard ads
Higher-performance ad composition for distribution to a wider variety of websites and reduced loading time
Video resizing capability to allow overlay text to be on a custom-color background
Timeline controls, with all still images, logos, audio and text arranged on a timeline
New Ad Distribution Methods
In addition to distribution of ads on websites that are part of the Jivox Publisher Network, Jivox has now added several ways by which advertisers can distribute their video ads. These services are available at no additional charge for advertisers who run a paid website campaign with Jivox.
Local search campaigns, with video ad placements on Google Maps, GetFave and other local search directories. Local search placement enables ads to be found by users who are looking for the product or service and therefore have a high propensity for purchasing,
Viral campaign capabilities, with point-and-click uploading to video sharing sites like YouTube. Viral campaigns enable wide distribution of video ads and often will be viewed and embedded at various sites across the web resulting in great exposure to the advertiser's products and services
Embedding of video ads on customer's own website. This capability enables advertisers to embed video ads on the web site so users to their site can learn about and see the product or service being offered.
Greater Ease of Use

Redesigned, simplified interface that streamlines the process of ad creation while providing advanced ad-creation capabilities
One-click preview for editing on a larger scale and then previewing of the ad in its actual size
Ample online help and tutorials
Improved Targeting and Optimization and Placement

Support for automatic tagging of video ads for use in contextual targeting
Improved campaign targeting algorithms resulting in higher click through rates
Expansion of the Jivox network to now include more than 600 local newspaper, television, radio and weather sites, enabling more precise local targeting
"The tremendous success Jivox has seen since our launch earlier this year has more than validated the need for a DIY approach to online video ads," said Diaz Nesamoney, CEO of Jivox. "Now with Jivox AdSlate 3.0, we've made it easier than ever for small businesses to create and distribute local video ads that get results."
One Jivox customer who is seeing results is New Lifestyle Diet, an online service that enables customers to get weight loss advice, interact with a personal lifestyle coach and weight loss buddies and order healthy meals for home delivery. New Lifestyle Diet turned to Jivox to develop a cost-effective series of online video ads. The message and images in the video ads targeted New Lifestyle Diet's core group of potential customers, women aged 25-48, and communicated New Lifestyle Diet's approach to dieting in a fun and engaging way. The ads were distributed to a geo-targeted audience in the Jivox Publisher Network, which reaches over 55 million unique visitors. Within a month of launching the video ads, New Lifestyle Diet began seeing a surge in website visits and an impressive jump in new sign-ups.
"Jivox is incredibly easy to use and the company offered personalized support," said Hamilton Erridge, CEO of New Lifestyle Diet. "Jivox really worked with us to understand our advertising needs, our target audience and our key messages. Jivox has put our small company on a more level playing field with bigger competitors, helping us compete head-to-head with massive brands like Weight Watchers and Jenny Craig."
"Getting video ads in front of targeted local audiences is where much of the value will lie for small businesses," said Michael Boland, senior analyst, The Kelsey Group. "Jivox has an interesting approach in this respect, given that it is pushing video out into an ad network of local destination sites."
About Jivox
Jivox helps small businesses reach customers with online video advertising. Jivox provides advertisers with an online, self-service tool to create high-impact video ads using stock footage, images, music or their existing video assets. Jivox ensures high-quality placement of customer ads through the Jivox Publisher Network, a locally focused network of premium publishers that includes hundreds of local TV and radio stations, newspapers, weather and other specialty websites, and offers geographic ad targeting at the city level as well as demographic and contextual targeting. Jivox is a privately held company based in San Mateo, Calif. For more information about Jivox, please visit http://www.jivox.com.
# # #