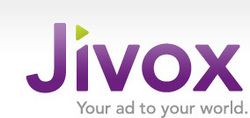 We're seeing significant adoption of online video advertising by small businesses who want to reach a targeted local audience
San Mateo, California (PRWEB) October 6, 2008
Jivox today announced growing momentum with small advertisers seeking to reach customers in specific localities, including new customers such as Soren Legal, NewLifestyleDiet, FitFoodRX, Laserview, 911 Appliance and Florida Transmission. These companies, who are all targeting their ads to reach a particular local audience, are benefiting from the potent combination of Jivox's local ad targeting and its premium local publisher network that includes over 600 local TV, radio and newspaper websites across the country and reaches more than 55 million unique viewers.
For example, New York-based Soren Legal, a company that provides workshops and services to help people prepare for the New York State notary public exam, used Jivox to create video ads and target the ads within a 50-mile radius of its workshops. Within 24 hours of launching the ads, Soren Legal noted an uptick in inbound leads and also saw an increase in its page rank on Google. According to Soren's president Mike Brown: "The best thing about Jivox is that I know my video ad is being viewed by the right audience. Jivox is now a core component of our marketing program because it is so easy to use and produces great results."
Jivox growth statistics from this past quarter include:

Number of advertisers grew four-fold from the previous quarter
Number of ad impressions served grew five times from the previous quarter
Reach of the Jivox Publisher Network grew by 37% to 55 million unique visitors
Number of local publisher sites on the premium Jivox Publisher Network more than doubled from the previous quarter
Advertiser revenue grew four times from the previous quarter
"We're seeing significant adoption of online video advertising by small businesses who want to reach a targeted local audience," said Diaz Nesamoney, CEO of Jivox. "As these companies seek to find more cost-effective ways to advertise their businesses, self-service online video advertising is proving to be a great opportunity."
Jivox offers a complete service for local online video advertising, combining video ad creation tools, proprietary targeting technology and an extensive network of premium local publishers to help companies easily develop high-impact online video advertising campaigns. Jivox just released Jivox Ad Slate 3.0, the latest version of its technology platform, which provides more robust ad creation tools, greater ease-of-use and improved behind-the-scenes targeting. Jivox also recently announced that it has added Examiner.com, Accuweather.com, Weatherbug.com, Media News Group and other publishers to the Jivox Publisher Network. The industry's only locally focused network of premium publishers, the Jivox Publisher Network now includes over 600 local TV, radio and newspaper websites across the country and reaches more than 55 million unique viewers.
About Jivox
Jivox helps small businesses reach customers with online video advertising. Jivox provides advertisers with an online, self-service tool to create high-impact video ads using stock footage, images, music or their existing video assets. Jivox ensures high-quality placement of customer ads through the Jivox Publisher Network, a locally focused network of premium publishers that includes hundreds of local TV and radio stations, newspapers, weather and other specialty websites, and offers geographic ad targeting at the city level as well as demographic and contextual targeting. Jivox is a privately held company based in San Mateo, Calif. For more information about Jivox, please visit http://www.jivox.com.
# # #