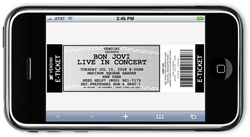 We're turning the business of mobile ticketing upside down. Today, not only are we announcing support for purchasing tickets on the iPhone, we're claiming our commitment to bring Vendini's easy-to-use systems to the iPhone. The impact that this new technology will have on the ticketing industry is nothing short of revolutionary
San Francisco, CA (PRWEB) October 7, 2008 -
Vendini announced today its support for entertainment ticket sales on the Apple iPhone. Organizations currently using Vendini box office solutions will automatically take advantage of this update. Patrons visiting an event's website can use their iPhone to select an event, choose their tickets, securely submit their credit card billing information, and present electronic tickets for entry. In addition, organizations can use Vendini's marketing tools to send marketing messages to the iPhone email to promote upcoming events.
Ticket inventory for sale through the iPhone automatically coordinates with box office inventory, website sales, and remote outlets -- so seats are never double booked. Each ticket has a unique barcode for security, which may be scanned at the venue using a hand-held scanner. Vendini maximizes revenue for venues while giving patrons the ability to purchase tickets just moments before an event begins.
"We're turning the business of mobile ticketing upside down. Today, not only are we announcing support for purchasing tickets on the iPhone, we're claiming our commitment to bring Vendini's easy-to-use systems to the iPhone. The impact that this new technology will have on the ticketing industry is nothing short of revolutionary," said Mark Tacchi, President & CEO of Vendini, Inc. "Up until now, purchasing tickets from a cell phone was difficult and reserved for organizations willing to endure the complexity and cost involved in implementing a mobile system. Our system will allow any organization, big or small, to offer mobile ticketing to their events at a reasonable cost."
About Vendini, Inc.
Vendini is the market and technology leader in on-demand box office solutions. Over 3,500 organizations utilize Vendini's solutions for promoting events, selling tickets, and managing box office operations. The company's suite of on-demand box office applications includes a fully integrated CRM system to keep track of their patrons, donors, and VIPs.
Vendini and the Vendini logo are registered trademarks of Vendini, Inc.
# # #