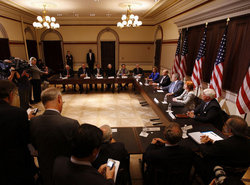 The credit markets are in turmoil. Even healthy companies with solid balance sheets and order backlogs cannot obtain the routine financing they need to meet payroll and expand productive capacity
St. Charles, IL (PRWEB) October 3, 2008
In his role as business owner, a Director of the National Association of Manufacturers (NAM), and Chairman of the Illinois Manufacturers Association (IMA), Ron Bullock and 12 other business leaders met with President Bush at the White House yesterday to personally discuss the state of the economy and the vital importance of the passage of the pending Economic Rescue Package by the House.
Bullock, owner and Chairman of gearmotor manufacturer Bison Gear & Engineering Corp., expressed concern for how tightening credit markets affect not only the ability of his customers to buy Bison products they incorporate into the equipment they build, but also how his customers' customers were finding it difficult to finance the new equipment, in addition to the difficulties Bison Gear might face in its growth plans and the security of its 275 employees.
"At Bison Gear, we always put lubrication in our gearboxes -- otherwise, gears would seize and stop working," said Bullock. "Capital and credit are lubrication for the financial markets, and we need to get them smoothly flowing again."
"The credit markets are in turmoil. Even healthy companies with solid balance sheets and order backlogs cannot obtain the routine financing they need to meet payroll and expand productive capacity," said NAM President John Engler.
In thanking the job creators who came to the White House, President Bush said, "... the bill that's before the House of Representatives .. is a bill that has got the best chance of providing liquidity, providing credit, providing money so small businesses and medium-sized businesses can function." The President added, "And I want to thank you all for going up and telling these members of Congress what's on your mind and how this affects your businesses at home, and how it affects the communities in which you live. This thing -- this issue has gone way beyond New York and Wall Street."
About Bison Gear & Engineering Corp.
Founded in 1960, Bison Gear & Engineering Corp. designs and manufactures fractional horsepower electric motors, gearmotors and gear reducers used in industrial and commercial OEM applications worldwide. Bison's strong engineering tradition, based on Robusticity (TM) principles, offers products with up to twice as much torque in the same package size as competitors. Bison employs over 270 associates in its St. Charles, Illinois facility which produces gearmotors and reducers in parallel shaft and right angle configurations, as well as AC and DC electric motors, for applications where dependability and long lifetimes are important.
###