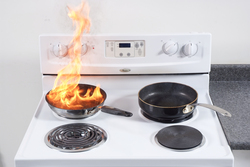 For seniors living independently, the highest risk group for home fires, this product especially provides peace of mind
Richmond, VA (PRWEB) October 6, 2008
Almost everyone's done it - forgotten a pot or pan cooking on the stove.
So it's not too surprising that stove top fires are the #1 cause of fire in the home, and a thorny problem for fire prevention officials.
Until now, that is. As Chris Eudailey of the Virginia Fire Chiefs Association says, "we believe we've found a solution." Eudailey is President of the VFCA, which this summer endorsed and is now promoting Safe-T-element®, (STE), a new cooking system that can be installed on the average electric stove for under $200.
"Safe-T-element will assist in the reduction of these very tragic and sometimes deadly types of fire incidents," he explains.
The new cooking system allows the user of the stove to cook or fry as usual, but with one difference: burners cycle on and off so that food in pots and pans never becomes hot enough to catch fire. The STE system also saves energy by reducing the amount of electricity needed for cooking by approximately 35%, a major selling point with landlords and power utilities.
Across North America, Safe-T-element is winning acceptance from consumers and safety organizations, with recent endorsements by the Department of Homeland Security Fire Prevention and Safety Program, and the U.S. Home Safety Council.
"For seniors living independently, the highest risk group for home fires, this product especially provides peace of mind," says Kevin Callahan, President of Pioneering Technology, Mississauga ON, which developed the new system.
Insurance firms are taking note. In fact, a major U.S. insurer is betting that Safe-T-element is the answer to its fire losses. This September, the Assisted Housing Risk Management Association purchased an initial 2000 STE systems, which it is offering to its 165 Housing Authority members at reduced, "fire sale" prices.
"The STE prevents cooking fires and reduces energy costs that will save AHRMA, and ultimately our members, lots of money," explains AHRMA's CEO Julie DePasse.
As well as private homes and apartments, Safe-T-element is also installed in many student, senior, military and community living facilities. This summer, City of Ann Arbor, MI, and Peel Living, Mississauga, ON, decreed that all stoves purchased for their affordable housing properties must be equipped with the new STE system.
For more information about the Safe-T-element fire prevention cooking system, visit http://www.safetelement.com .
# # #