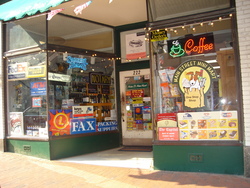 Annapolis, MD (PRWEB) October 5, 2008
Annapolis convenience store, Main St. Mini Mart, is offering a wine tasting on Friday, October 10th 6-9 p.m. to coincide with the opening of the US Sailboat Show.
Main St. Mini Mart will have four lesser known varietals that will give customers an opportunity to become more familiar with something new while nibbling on crackers, cheese, and grapes. Friday's wine tasting will offer autumnal inspired wines appropriate for the fall holidays. A Monastrell from Spain, an aromatic red Zinfindel from California, a Prosecco from Italy, and lastly, a Late Harvest Sauvignon Blanc Chilean desert wine will be featured at 20% off.
Main St. Mini Mart also has a full selection of liquor that compliments the upcoming holiday gatherings. Hiram Walker Pumpkin Spice Liquor is highlighted for the month of October along with Stirrings Spiced Apple mixer which can be combined with sparkling wine or carbonated water as a tasty nonalcoholic beverage.
Main St. Mini Mart is situated in the heart of the historic district. Located at the top of Main street, across from the Maryland Inn, with hours convenient to tourists and locals -- open 8 a.m. to 10 p.m. on Fridays and Saturdays, till 9 p.m. on weekdays. Whether a boat show exhibitor, attendant, or resident, a bottle of wine is ideal for post boat show relaxation.
Meet local photographer, Bill Burnette (http://flickr.com/photos/28807279@N05/), who has an exhibit at Main St. Mini Mart and will have signed and matted 8x10 Annapolis prints for sale. Burnette's artful skill in capturing and preserving modern day scenes from the past gives viewers a new perspective on Annapolis' historic and nautical surroundings.
Main St. Mini Mart is an authorized Fedex shipping center and Western Union & Lottery agent. Fax services and a copier are also available. A Notary is usually on premise.
The wine tasting on Friday welcomes all of our friends and visitors to gather and celebrate in Annapolis.
410-626-2099 * 222 Main St. * Annapolis, Md. * 21401
# # #