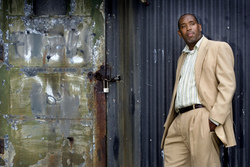 We reversed the charges, so to speak.
Trenton, NJ (PRWEB) October 7, 2008
Roland Laird is a critically acclaimed author with a passion for his culture and his community. On October 3 2008, at the height of the U.S. financial crisis, Roland left his position as a VP of Technology at a wholly-owned subsidiary of a Global Fortune 100 company to grow his near 20-year-old side business Posro Media in Trenton, NJ into the country's leading convergent entertainment company specializing in African American culture.
Read Roland Laird's LinkedIn profile at http://www.linkedin.com/in/rolandlaird.
The Posro name is a play on the word "Negro". "We took away the negative 'prefix' and replaced it with a positive one," says Laird. "We reversed the charges, so to speak." Reverse the Charges is also the name of the blog that Roland has begun at http://www.posro.com/blog.
In the early 1990s Posro was one of the first black-owned independent comic book companies publishing the hip hop-infused series MC Squared. Today the company produces projects in a variety of formats, including comics, books, video, and film. Posro projects' positive imagery is designed to stand in sharp counterpoint to the mass media's often unrealistic and misleading portraits of the African American community. The company's fresh, and historically accurate perspective on topics ranging from slavery, to sports, politics, Hip Hop and superheroes have garnered praise from many national media including The New York Times, The Source, Entertainment Weekly, NBC's The Today Show, and MTV.
Laird co-authored with his wife Taneshia, Still I Rise: A Graphic History of African Americans, a critically acclaimed work with an impressive scope: the entire history of Black America, told in an accessible 216 page graphic-novel form. Originally published in 1997, it was recently updated and now extends from the arrival of the first Africans in 1619 right through to Senator Barack Obama's groundbreaking presidential campaign. Compared by many to Art Spiegelman's Maus, Still I Rise is a breathtaking achievement that celebrates the collective African-American memory, imagination, and spirit and the book has been embraced by colleges and schools throughout the country.
A graduate of Brown University, Laird co-founded the NY Chapter of Brown University's Inman Page Black Alumni Council and its affiliate the Ethel Tremaine Robinson Foundation. He is also the president of the board of the I Am Trenton (NJ) Community Foundation. An active advocate for his community, Laird has played many roles working on the behalf of the people of Trenton, Harlem, and other underserved neighborhoods.
He is experienced in media interviews and speaking to community groups and school groups from secondary school to universities. He has also been a writer-in-residence at Miami Dade College, was selected as a Winner-of-the-Week by Tavis Smiley, and in 2004, the US Mission to the United Nations recognized Laird as a global ambassador for his tireless devotion to his world community and heritage.
Laird was born in Brooklyn to parents with Jamaican roots. His family moved to Hollis, Queens where he played pick-up basketball games with future rap impresario Russell Simmons and remembers future hip hop legends Joseph "Run" Simmons, Darryl "D.M.C." McDaniels, and Jason "Jam-Master Jay" Mizell as kids from the neighborhood.
As a teen Laird excelled in math and science and attended New York City's top public magnet Stuyvesant High School where his English teacher was Pulitzer Prize-winner Frank McCourt who said Laird was a talented writer and wanted him to attend Vanderbilt and study English. Instead, Laird earned his bachelor's in mathematics from Brown and a master's in computer science from New York Institute of Technology.
Roland's social media links are as follows:
http://www.myspace.com/posro
http://www.facebook.com/people/Roland_Laird/1011115
http://www.flickr.com/photos/posro
###