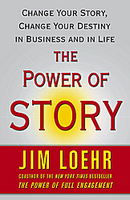 Your story is your life
Orlando, FL (PRWEB) October 6, 2008
Purpose, truth, action—all good storytelling adheres around these three ideas. Now, the book that has shown thousands how to use those three critical principles in their personal storytelling is available in paperback. The Power of Story: Change Your Story, Change Your Destiny in Business and Life is Dr. Jim Loehr's 13th book on how to manage your inner life for greater success in the workplace, at home, and in personal relationships. (Simon & Schuster, October 2008)
"Your story is your life," says Loehr. As human beings, we continually tell ourselves stories—of success or failure; of power or victimhood; stories that endure for an hour, or a day, or an entire lifetime. Helping readers to find and strengthen their inner storytelling voice, THE POWER OF STORY invites readers to storyboard their missions in life–a process for examining which areas of their lives are not working, where behavior is not aligned with their core purpose.
To ensure that these "mission critical" areas see genuine transformation, THE POWER OF STORY presents a ninety-day plan to guarantee that readers' new stories become reality. With guidelines to articulate new stories, Loehr invites readers to write a new story that takes them where they want to go in life, reflects the truth, and inspires hope-filled action. He also invites readers to take a free self assessment to judge their current state of mental, emotional, physical, and spiritual balance.
Loehr is author or coauthor of such titles as The Power of Full Engagement and Stress for Success. He is also CEO and cofounder of the Human Performance Institute, a training organization that offers high performance training for individuals and employee wellness programs for organizations. The Institute's Corporate Athlete programs are used by major organizations worldwide to promote full engagement, employee wellness and work-life balance. Upcoming 2008 training dates include November 10-12 and December 8-10. In 2009, first quarter dates include: January 19-21, January 26-28, February 9-11, March 2-4, March 9-11.
Dr. Loehr and the Human Performance Institute have been featured in Fortune Magazine, Business Week, Harvard Business Review, and Oprah.
Media contact: Jeff Boswell, 407.438.9911 x138
Product Details
THE POWER OF STORY: CHANGE YOUR STORY, CHANGE YOUR DESTINY IN BUSINESS AND LIFE
Free Press, October 2008
Trade Paperback, 288 pages
ISBN-10: 0-7432-9468-8
ISBN-13: 978-0-7432-9468-3
This press release was distributed through eMediawire by Human Resources Marketer (HR Marketer: http://www.HRmarketer.com) on behalf of the company listed above.
###