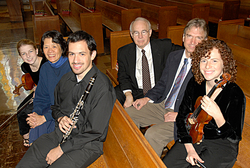 Caroline Goulding is a brilliant talent
Cleveland, OH (Vocus) October 6, 2008
Saint Ann Church in Cleveland Heights. OH has started a music program as an enhancement of its 9:30 AM Mass. The music program features three musicians from the prestigious Cleveland Institute of Music: Ariel Clayton, violin, and Jay Dubin, clarinet, with guest violinist, Caroline Goulding. Jim Bockhoff is the cantor. Mimi Lam, organist and pianist, serves as the interim music director. Bill and Tiffany Laufer, filmmakers with Laufer Film, are coordinators as is Father Deogratias Ruwaainenyi, the Parochial Vicar. This music program was started under the guidance of Pastor Father James Singler.
The Cleveland Institute of Music (CIM) is a leading international conservatory, with graduates who perform with the world's most acclaimed musical organizations, including 37 members of the Cleveland Orchestra. We are pleased to welcome these members as participants in the Saint Ann program:
Ariel Clayton was born and raised in Dallas, TX. She is currently pursuing a bachelor of music degree from the CIM, where her primary teachers are David and Linda Cerone. She began studies at the age of 11 and has been blessed through the years with gifted and devoted teachers who have inspired and challenged her.
Ariel enjoys private teaching and the excitement of working with children and students of all ages, and hopes to find her niche in the music world as both a respected teacher and performer. Other interests include cooking and painting, and practicing!
Jay Dubin is a native of New Jersey. He began playing the clarinet at the age of 10. He is pursuing a bachelor's degree in music performance from the Cleveland Institute of Music under the tutelage of Franklin Cohen, principal clarinetist of the Cleveland Orchestra. When Jay isn't playing clarinet, saxophone, or a variety of other instruments, he enjoys spending his rare free time composing or watching operas. He is glad to join the music program at Saint Ann's.
Jay recently won a clarinet position in the Summer Opera Theatre Company Orchestra in Washington, D.C. He was selected to participate in the David Krakauer Klezmer Music Workshop and performed at Carnegie Hall in April. He also was among a select group of CIM students who recently played in Rome for Pope Benedict the XVI.
Caroline Goulding, a junior at Gilmour Academy, is well on her way to fulfilling the destiny confidently predicted for her by Geoffrey Fushi, Chairman of the Stradivari Society. "Caroline Goulding is a brilliant talent," he asserted. "One who is destined for greatness." She won the Cleveland Orchestra Youth Orchestra's Concerto Competition performing Tchaikovsky's Violin Concerto in 2007. In April 2007, Caroline was one of only 10 musicians world-wide selected to take part in the Starling-DeLay Symposium on Violin Studies at the renowned Juilliard School.
Only sixteen, Caroline has appeared with a roster of orchestras that include the Detroit Symphony Orchestra, the Cleveland Orchestra, the Cleveland Pops Orchestra, the Buffalo Philharmonic Orchestra, the Aspen Music Festival's Concert Orchestra, Sinfonia Gulfcoast, Atlantic Classical Orchestra, Red , The Cleveland Women's Orchestra, the Lakeside Symphony Orchestra, and the International Symphony Orchestra.
Caroline began studying the violin when she was three years old under the tutelage of Julia Kurtyka and now studies with the renowned pedagogue Paul Kantor at the Cleveland Institute of Music. Caroline Goulding plays the 1617 Lobkowicz A&H Amati, made possible through the generous efforts of The Stradivari Society of Chicago.
Jim Bockoff is a singer who sings for local Churches and other venues. His main focus is Gregorian Chant, Contemplative Prayer, and Sacred Liturgy.
Mimi Lam, organist and pianist, began to play the piano at the age of six. She received a B.A. from Oberlin College and an M.D. from Case Western Reserve University. She currently is a staff physician at MetroHealth Medical Center and an associate professor of medicine at Case, and serves as the interim music director for Saint Ann's. She also enjoys singing and playing chamber music with friends.
Filmmakers Bill and Tiffany Laufer, the producers, started LauferFilm.com in 1996. Both are graduates of Georgetown University as well as being a father - daughter film team. The Laufers recently completed the award-winning HD feature, Christmas at Maxwell's. http://www.imdb.com/title/tt0420550/, one of the first HD digital movies to be digitally distributed.
For further information on Saint Ann and the music program, please contact Renee Barber at 216-321-0024 or e-mail Saint Ann at rbarber(at)saintann.us.
# # #