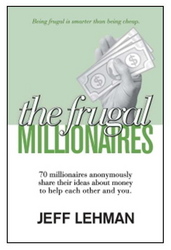 The book is a double 'give back' with a portion of the profits going to charities designated by the frugal millionaires
Seattle, WA (PRWEB) October 16, 2008
In the new book, The Frugal Millionaires (Mentor Press), author Jeff Lehman networked with 70 "everyday" millionaires and helped them anonymously share their ideas about being smarter with money.
"To stay ahead financially these days most of us need some frugality in our lives. An unlikely group of people have used frugality to keep their personal finances in order and grow their wealth, even in tough times. They are millionaires...or rather, frugal millionaires, and everyone can learn from them," says Lehman.
The idea for the book came from Lehman asking three millionaire friends to share tips about how they managed their finances. Their ideas were practical and smart, yet all very different. When told about the tips a fourth friend asked to see them. That was the "a-ha" moment for Lehman and he set out to find out the many ways millionaires were being frugal and growing their wealth. The result is a collection of over 800 ideas and tips across 24 money related categories. For those who want the quick take Lehman created the "model" frugal millionaire and outlines their 15 best frugal practices. Additionally, he profiles the six ways that frugal millionaires think differently about money than the rest of us and offers a series of financially related rants and raves called "In Lehman's Terms." The book is easy to read and understand and any financial terms are explained in simple terms.
The Frugal Millionaires also offers a few unexpected twists. "The book is a double 'give back' with a portion of the profits going to charities designated by the frugal millionaires," says Lehman. "And, it is unlike many other personal finance books you might find these days because there are no hidden agendas to sell seminars, programs, workbooks or even t-shirts. This book is not self-serving, it is simply the sharing of pure and honest information that has worked for many successful people," he says. For more information visit: http://www.TheFrugalMillionaires.com.
To view KING 5 TV (NBC - Seattle) reporter Tim Robinson's story on The Frugal Millionaires go to this link: http://www.king5.com/video/savemoney-index.html?nvid=293049.
The Frugal Millionaires is available now for retail sale at Amazon (http://www.amazon.com), Barnes & Noble (retail and http://www.bn.com) and from other selected booksellers. Distribution is through Partners - West and REKO Fulfillment.
Those who wonder how frugal they are can take The Frugal Test by visiting: http://www.TheFrugalTest.com. It consists of 25 multiple choice questions, takes less than 10 minutes to complete, and all the results are privacy protected.
Book Information: The Frugal Millionaires, Author: Jeff Lehman, Publisher: Mentor Press LLC, List price: $21.95 5.5" X 8.5" X .625" ISBN-10/Amazon: 0976899922, ISBN-13: 978-0976899921, 191 pages. Printed in the USA on recycled paper and available in paperback only.
###