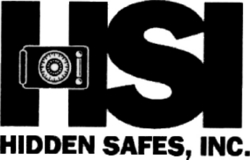 If they can't find it, they can't steal it®.
Nashville, TN (PRWEB) October 8, 2008
Hidden Safes, Inc., a leader in the installation and construction of hidden safes, has opened its 8th location in Nashville, TN. For over a quarter of a century, this innovative company has built hidden safes that are protected from theft, fire damage, and severe weather destruction.
B. Perkins, Founder of the concept comments on why nothing has ever been stolen from the safes constructed by Hidden Safes, Inc. "We build our hidden safes in all shapes, sizes and designs with one theory in mind: If they can't find it, they can't steal it®"
Recent Bank Failures Creates Need For Individuals to "Stash Cash" In Their Own Homes
Because of the recent financial crisis and bank failures many are withdrawing large sums of cash and valuables from their personal accounts. This has created a demand for a safe and secure way to hide large sums of cash.
Traditional safes are often set up in open and obvious places in the home because of their awkward size and weight. If a thief knows the location of the safe, there is a good chance they can crack it.
"A robber will spend an average of 8 minutes in a home," comments Mr. Perkins. "If he is a 'professional' thief, he'll know how and where to find the valuables he is looking for. Our safes are disguised and can't be found in any home."
That's because the safes are built hidden in every day items found in most homes. Hidden Safes, Inc. builds their safes disguised as tie racks, drawers, picture frames, and many other items that can't be mentioned to protect the confidentiality of Hidden Safe's Clients.
About Hidden Safes, Inc.:
Hidden Safes, Inc., operated by Dan Perkins (President) and his sister Dee Dee Fowler (VP of Sales and Marketing in the Nashville location), specializes in building and installing hidden safes for home and business owners throughout the world (including Switzerland and Hong Kong). The company will construct and design a hidden safe for an individual's specific needs. Since inception, they have built their safes with the same philosophy, "If they can't find it, they can't steal it®." Although some of their clients have been burglarized, no Hidden Safe's customer has ever had valuables stolen from their custom made safes.
For more information, contact:
Email: Jonathan D. Blotner: JB@jblotneradvertising.com or phone: 901.568.4800
Email: Dee Dee Perkins DeeDee@HiddenSafes.com or phone: 615.830.4773
Web: http://www.HiddenSafes.com
###