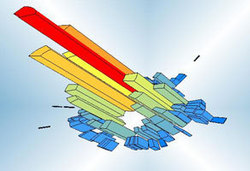 Our visualization technology is unique to the market
Chicago, IL (PRWEB) October 8, 2008
Eaagle Software announced that it is exhibiting in booth 857 at the 2008 HR Technology Conference and Exposition. The conference is being held on October 15-16, 2008 at McCormick Place in Chicago.
Eaagle Software will provide hands-on demonstrations of Full Text Mapper (FTM) to HR professionals to display how they can use FTM to read, analyze, and map unstructured data obtained from surveys, assessments, communications, and competencies. "FTM is a knowledge discovery tool that allows you to uncover information and links between data that you could not find through typical statistical analysis," states Yves Kergall, President and CEO of Triviumsoft. "Companies hold a wealth of full text data that is not utilized because most text mining tools are prohibitively expensive and require specialized training. FTM was designed to overcome these obstacles."
Full Text Mapper reads and maps unstructured data residing in Excel, Word, PowerPoint, Text, HTML, and PDF files. "Our visualization technology is unique to the market," says Pierre Kergall, COO of Eaagle. "Coupled with the fact that you do not have any setup or predefinition, Eaagle Full Text Mapper is unlike anything else available on the market today."
FTM is a desktop software program that provides analysis of unstructured data and brings together advanced text mining technology and desktop computing. Features of Full Text Mapper include data visualization and exploration, data extraction, and reporting. Additionally, data garnered from within FTM can be exported to a CSV file for further statistical analyses and charting.
"HR professionals tend to shy away from asking open-ended questions in staff surveys because they can't analyze results easily and rapidly," says P. Kergall. "This cuts them off from a wealth of information that can be critical in today's downturned environment…information about trends, perceptions, new product ideas, services, and opportunities. With FTM, HR professionals can tap into the collective knowledge of their company to provide new insights and innovations to their business partners."
About Eaagle:
Eaagle is a global provider of specialized data and text mining software that empowers organizations to leverage full text information and transform it into a strategic asset. Our breakthrough technologies enable customers to visualize and analyze unstructured information and discover knowledge.
About Triviumsoft:
Founded in 1992 by mathematician Michel Authier and Stanford University Professor Michel Serres, Triviumsoft is a leading provider of talent management software solutions. Triviumsoft solutions help Fortune 500 organizations manage and develop their talents. Triviumsoft Group partners include world class consulting firms such as Accenture and Capgemini.
###