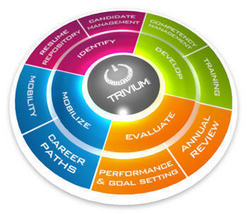 SEE-K uses competencies as the building blocks of our solution
Chicago, IL (PRWEB) October 8, 2008
Triviumsoft announced that it is exhibiting in booth 857 at the 2008 HR Technology Conference and Exposition. The conference is being held on October 15-16, 2008 at McCormick Place in Chicago.
Triviumsoft, a company that specializes in competency-based talent management, is introducing its new version of SEE-K, a software solution that helps companies optimize and grow their talents in line with business needs. Based on groundbreaking mapping technologies, SEE-K brings workforce analytics and decision-support capabilities together with key talent management process instrumentation.
The SEE-K solution helps companies identify, develop, evaluate and mobilize resources. "SEE-K uses competencies as the building blocks of our solution," says Greg Becker, Director of U.S. Projects at Triviumsoft. "Competencies are the DNA allowing our platform to connect employees to jobs, training, goals and performance." The SEE-K solution includes modules designed to identify and manage job candidates, develop and train employees, evaluate performance and set goals, provide for employee mobility, and help employees manage their career path.
SEE-K is a software system that is custom designed to fit the needs of the customer. One client can request a system that includes an employee survey and training plan while another can request a job bidding process and a goal setting or performance system. "We provide a customized software solution based on the needs of our clients," states Becker, "and our software can be hosted externally on ASP or at the client's location." The SEE-K solution was also designed to rapidly interface with current ERP, HRIS and LMS systems for complete integration.
Triviumsoft will also showcase its new workforce analytics toolset. TMM (Triviumsoft Mapping Module) provides a number of visualization and simulation tools including geographic maps, charts, reports and competency tree visualization.
About Triviumsoft:
Founded in 1992 by mathematician Michel Authier and Stanford University Professor Michel Serres, Triviumsoft is a leading provider of talent management software solutions. Triviumsoft solutions help Fortune 500 organizations manage and develop their talents. Triviumsoft Group partners include world class consulting firms such as Accenture and Capgemini.
###