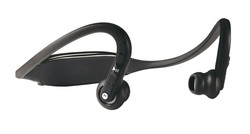 Every aspect of S9-HD - audio quality, style, fit, comfort and functionality - was designed with active users in mind so they are in control of their music and calls while exercising or on the go
New York, NY (PRWEB) October 7, 2008
Motorola, Inc., the global Bluetooth®1 accessory market leader in Bluetooth enabled accessories, today announced the U.S. availability of its MOTOROKR S9-HD wireless stereo headphones, the enhanced version of the award-winning MOTOROKR S9, upgraded with high-definition surround sound. The headphones also feature noise-isolating ear buds to reduce background noise for music and calls and improved comfort for a complete music-immersive mobile experience. S9-HD can be found at the MotoStore.
Improving upon the popular MOTOROKR S9, the ear buds work to isolate outside noise and have a ported design to help channel music to the ear canal while the SRS WOW HD™ software improves 3-D sound and high-definition acoustics. S9-HD connects to most compatible Bluetooth-enabled stereo music phones and MP3 players, and can be paired with most iPod® players using the Motorola D650 Bluetooth adapter.
Weighing barely an ounce - lighter than an average pair of sunglasses -S9-HD headphones are the perfect workout partner for people with active lifestyles. Contestants on the hit NBC show, this season's "The Biggest Loser Families", are using S9-HD headphones, paired with the award-winning MOTOROKR E8 mobile phone and music player, so they can work out without wires to their favorite tunes. Consumers can see it on "The Biggest Loser" - Tuesdays at 8 p.m. (7 p.m. CST) on NBC.
"Every aspect of S9-HD - audio quality, style, fit, comfort and functionality - was designed with active users in mind so they are in control of their music and calls while exercising or on the go," said Sean Ramsey, general manager, North America, for Motorola. "As the market leader in Bluetooth enabled accessories, we're excited to bring this innovative product to active U.S. consumers who want to stay connected to calls and music, and to showcase the product experience on a top NBC show."
All the features that made the MOTOROKR S9 popular are present in S9-HD. Users can listen to music and take calls from compatible Bluetooth enabled stereo devices2 while exercising with the headphones - without the hassle of pulling out a phone or MP3 player. S9-HD's unique, behind-the-head design creates a secure and stable fit during activity and easy-to-use controls for track selection, volume, play/pause and phone calls. Additionally, the headset supports up to six hours of music play from a single charge - keeping users connected on long outings.
Availability
The MOTOROKR S9-HD pack, which comes with noise-isolating ear buds and D650 adapter for iPods, is available on http://www.store.motorola.com for $139.99, and soon will be available at other retailers.
About Motorola
Motorola is known around the world for innovation in communications. The company develops technologies, products and services that make mobile experiences possible. Our portfolio includes communications infrastructure, enterprise mobility solutions, digital set-tops, cable modems, mobile devices and Bluetooth accessories. Motorola is committed to delivering next generation communication solutions to people, businesses and governments. A Fortune 100 company with global presence and impact, Motorola had sales of US $36.6 billion in 2007. For more information about our company, our people and our innovations, please visit http://www.motorola.com.
# # #